Village becomes oasis after local government makes effort to repair ecosystem
Ma Yunping always has a smile on his face when he talks about his beloved trees that he has planted over the past 20 years.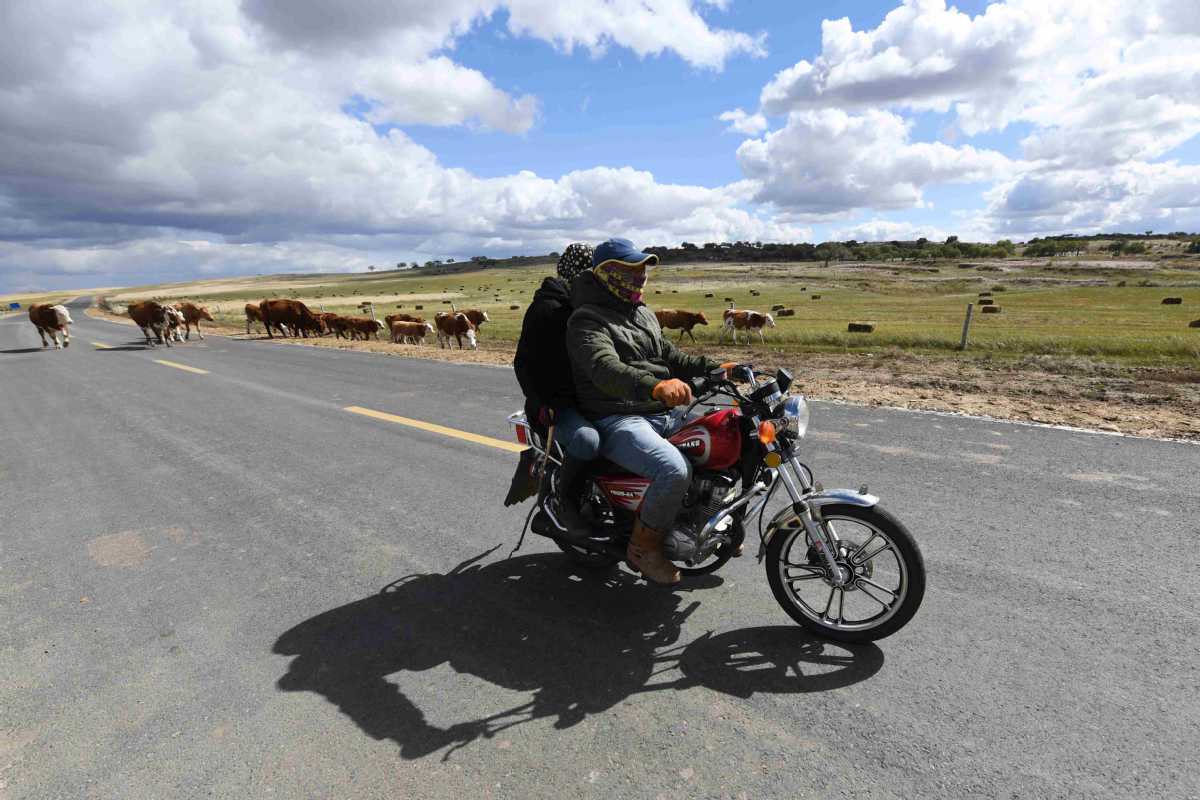 Herdsmen guide cattle to a piece of grassland where they will spend the winter in Zhenglan Banner, Inner Mongolia autonomous region, earlier this month. WEI XIAOHAO/CHINA DAILY
Herdsmen guide cattle to a piece of grassland where they will spend the winter in Zhenglan Banner, Inner Mongolia autonomous region, earlier this month. WEI XIAOHAO/CHINA DAILY
The 63-year-old has transformed around 246 hectares of barren desert into a green oasis in Xinmin village of Duolun county, Inner Mongolia autonomous region, deep in the Hunshandake Sandland.
"One of the happiest things for me is to take a morning walk among the trees and hear the birds chirping," he said. "Once I see my trees growing, my happiness rises from the depth of my heart. All my hard work has paid off."
Ma's efforts were part of the local government's forestation project that aims to transform Hunshandake-the closest sandstorm producer to Beijing and Tianjin-into a green area.
Only 180 kilometers from Beijing, Hunshandake is one of the four major sandy land in China. It's mainly distributed in nine counties and cities in Xiliin Gol League in Inner Mongolia and partly in Chifeng city, with a total area of 3.84 million hectares.
However, at the end of the last century, overgrazing, farm expansion and population pressures, combined with drought and other natural disasters, led to the desertification of many parts of Inner Mongolia.
Gong Heping, chief engineer at the Xiliin Gol League forestry and grassland administration, said that in the past 20 years the local government has taken protective measures such as prohibiting grazing; returning grazing land to grassland; returning farmland to forest and grassland; limiting the number of livestock allowed on grassland; and establishing a rotation system for grazing animals to gradually restore the ecosystem.
According to the Inner Mongolia Forestry and Grassland Administration, in the past two decades, the forest coverage rate in Hunshandake has increased by 10 percentage points to 23.3 percent this year. The average vegetation coverage of Hunshandake was 41 percent, an increase of 8 percentage points over 2001, the administration said.
The improved environment has also significantly increased the income of local farmers and herdsmen, Ma said, adding he can make around 300,000 yuan ($44,000) per year from raising cattle, and from selling saplings and cattle as well as sheep feed made from bushes.
However, in the 1990s, he could hardly make a living, with strong sandstorms burying his house and farmland and scarce grass making it difficult to raise cattle and sheep, he said.
"Some villagers just moved elsewhere, but I did not want to leave my hometown," he said."To survive, I had to plant trees to control the sand."
At that time, there were no proper roads leading to the sand dunes. Ma and his wife used carts to transport saplings to the sand hills.
"Planting trees in the sandy areas is not easy. In the first year, one strong sandstorm wiped out or buried almost all the willow trees we spent three months planting on the sand dunes."
Mats made of straw were woven to contain the moving sand dunes, and drought-resistant shrubs and grasses were also grown, he said.
After several years of hard work, the white barren desert was transformed into a green land, bearing trees and plants used in traditional Chinese medicine.
In 1978, China launched the Three-North Shelterbelt Forest Program. The afforestation project covers 13 provincial-level regions in the north, northeast and northwest and equates to 42.4 percent of the country's total land area.
Over the past 42 years, about 7.88 million hectares of windbreak trees have been planted, 336,000 square kilometers of desertified land has been managed and more than 10 million hectares of grassland has been protected and restored, according to a report released by the National Forestry and Grassland Administration.
Gong said apart from the afforestation project, the local government has also encouraged herdsman to reduce the number of sheep and raise more cattle, whose grazing causes less damage than sheep because they do not crop the grass as closely.
The number of livestock in Xiliin Gol League decreased to 7.11 million last year, 2.85 million fewer than in 2000, he said.
Gong added that sheep stock was 5.77 million last year, 4.19 million fewer than in 2000, while cattle stock stood at 1.19 million last year, 405,000 more than 20 years ago.
Avirmid, a veteran herdsman at a village in Zhenglan Banner, said he sold all 300 of his sheep in 1996 because violent sandstorms kept his animals from grazing properly.
He turned to cattle, and through years of breeding improvement, his fifth-generation Simmental livestock sell for an average of 18,000 yuan per animal, the 65-year-old said.
"The profit from selling cattle is much higher than sheep. I am expecting to make 350,000 yuan this year," he said.