2016年4月26日,
On April 26, 2016,
習近平在知識分子、勞動模範、青年代表座談會上強調:
Xi Jinping stressed during his meeting with intellectuals, model workers and youth representatives,
"勞動模範是勞動群眾的傑出代表,是最美的勞動者。
"Model workers are outstanding representatives of the working people and the most beautiful workers.
勞動模範身上體現的'愛崗敬業、爭創一流,
What they show us—to love what they do, wholeheartedly devote to their job, strive for the best,
艱苦奮鬥、勇於創新,淡泊名利、甘於奉獻'的勞模精神,
work diligently, be brave in innovation, be indifferent to fame and wealth, and be willing to dedicate
是偉大時代精神的生動體現。"
—vividly reflects the great spirit of the time."
習近平總書記一直尊重勞動、關心勞動者。
General Secretary Xi Jinping always cares about workers and respects their work.
黨的十八大以來,
Since the 18th CPC National Congress,
他在多個場合、多次提及勞動和勞動者,
he repeatedly mentioned work and workers at different occasions
呼籲中華民族要弘揚"勞模精神"。
and called on the Chinese nation to carry forward the "dedication of model workers."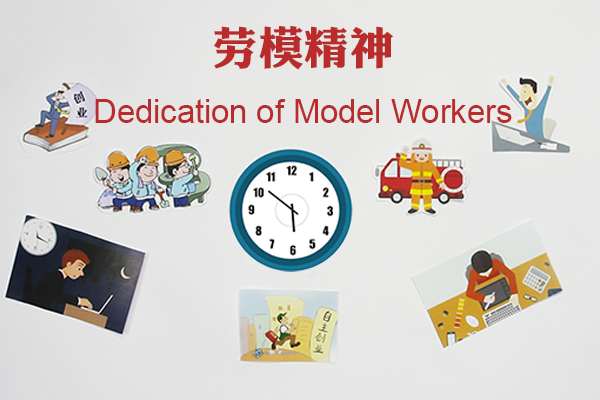 我們一定要在全社會大力弘揚勞模精神、勞動精神,

We should vigorously promote model workers' dedication to their job in the whole society,
大力宣傳勞動模範和其他典型的先進事跡,
and popularize model workers and typical exemplary deeds
引導廣大人民群眾樹立辛勤勞動、誠實勞動、創造性勞動的理念,
to guide the public to establish the awareness to work arduously, honestly, and creatively.
讓勞動光榮、創造偉大成為鏗鏘的時代強音,
In doing so, we shall establish the tone of our day—to honor work and to value creation
讓勞動最光榮、勞動最崇高、勞動最偉大、勞動最美麗蔚然成風。
—and generalize the idea that work is the greatest, the most glorious, noble, and beautiful thing.
掏糞工人時傳祥"寧願一人臟,換來萬家凈"、
"I would willingly soil myself so that thousands of households are clean," said nightman Shi Chuanxiang.
"鐵人"王進喜
According to the "Iron Man" Wang Jinxi,
"寧肯少活二十年,拼命也要拿下大油田",
"I worked desperately to find big oilfields even if that would cost me 20 years of life."
雜交水稻之父袁隆平做著"禾下乘涼夢"充實天下糧倉……
Yuan Longping, the "father of hybrid rice," enriches the barn of China with persistent efforts…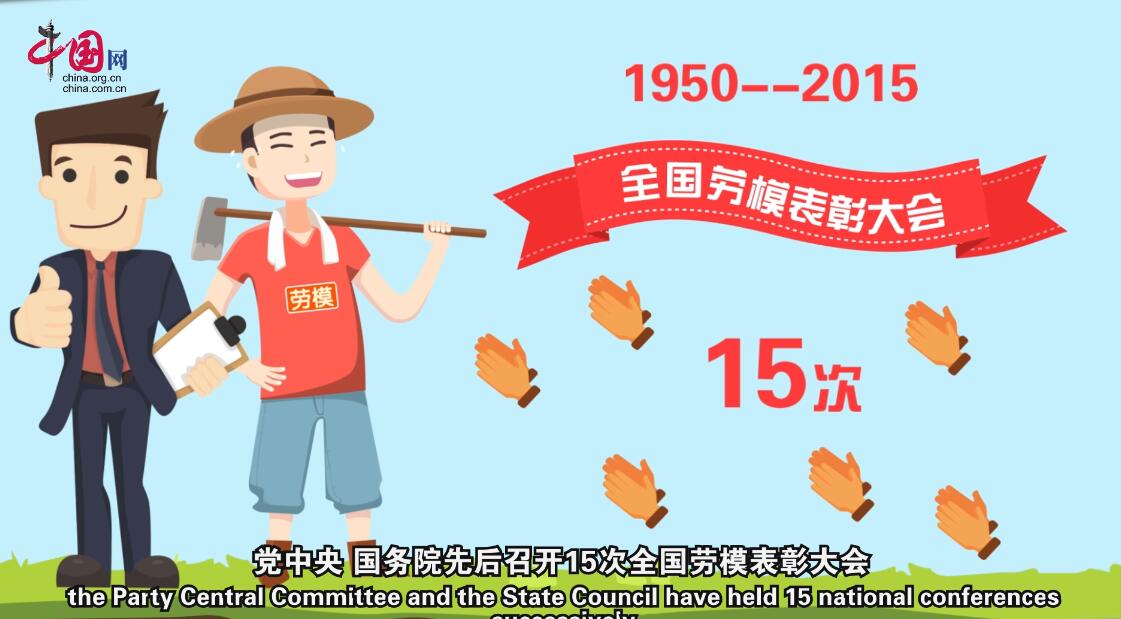 有數據顯示,1950年至2015年,黨中央、國務院先後召開15次全國勞模表彰大會,

Since 1950, the Party Central Committee and the State Council have held 15 national conferences successively
累計表彰先進集體10667個,共表彰了全國勞動模範和先進工作者31215人。
to commend a total of 10,667 advanced collectives and 31,215 advanced individuals.
不同的崗位,同樣的精神,
These model workers at different posts realize their value with the same dedication.
這些勞模們以創造、創新、創業的激情,
Their creation, innovation, and career
在勞動中成就了自己的價值,更托舉起一個國家、一個民族的夢想。
support the dream of a country and a nation.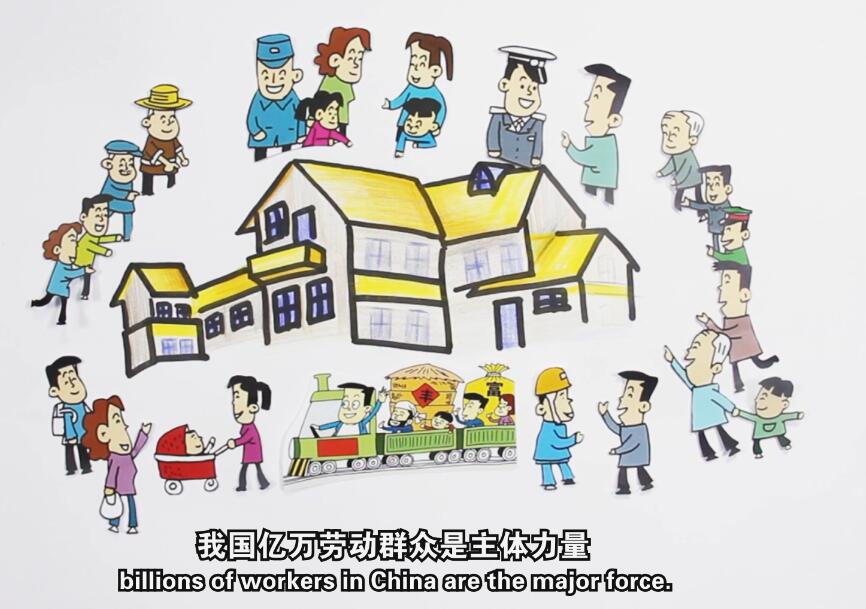 全面建成小康社會,

For building a moderately prosperous society in all respects,
我國億萬勞動群眾是主體力量。
billions of workers in China are the major force.
希望我國廣大勞動群眾以勞動模範為榜樣,
Hopefully, all our workers can follow the examples of these role models to love what they do,
愛崗敬業、勤奮工作,銳意進取、勇於創造,
devote wholeheartedly to work, work diligently, forge ahead determinedly, and strive to create,
不斷譜寫新時代的勞動者之歌。
which would compose the never-ending song of the workers in the new era.