2013年4月28日,習近平總書記在同全國勞動模範代表座談時的講話中再次提到"鐵人精神",
On April 28, 2013, General Secretary Xi Jinping mentioned the "iron man spirit" again in his speech on the meeting with representatives of national model workers,
讚揚"鐵人精神"成為激勵各族人民意氣風發投身社會主義建設的強大精神力量。
and praised the "iron man spirit" as a powerful spiritual strength to inspire people of all ethnic groups to devote themselves to socialist construction.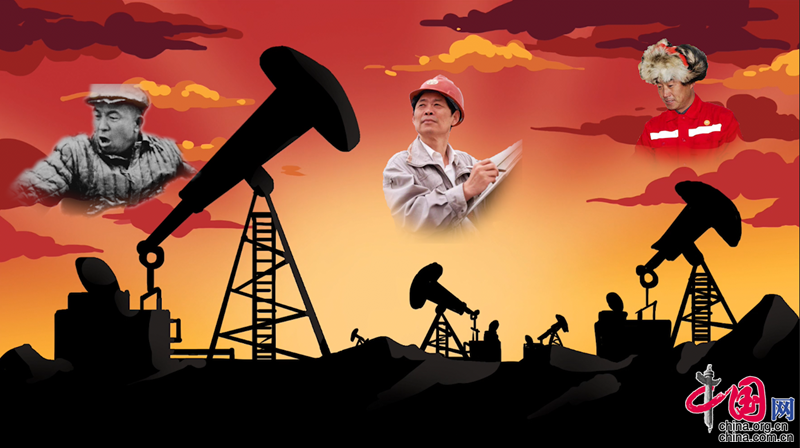 "鐵人"是人們對當年大慶油田優秀建設者代表王進喜的尊稱。

"Iron man" is the honorable title of Wang Jinxi, the representative of outstanding builders of Daqing Oilfield.
面對國家建設急需石油的燃眉之急,
In March 1960 when China was in urgent need of oil for national construction,
石油工人王進喜于1960年3月率領"1205"鑽井隊開赴大慶參加石油大會戰,
oil worker Wang Jinxi led the "1205" drilling crew to participate in the oil campaign in Daqing.
不顧腿傷跳進泥漿池,用自己的身體壓服井噴,被人們譽為"鐵人"。
Regardless of leg injury, he jumped into the mud pit and suppressed the blowout with his body, and was praised as "iron man".
他在為新中國石油工業的發展立下不朽功勳的同時,
He made immortal contribution to not only the development of new China's petroleum industry,
也留下了以"愛國、創業、求實、奉獻"為主要內容的"鐵人精神"。
but also the "iron man spirit" featuring patriotism, entrepreneurship, pragmatism and dedication.
幾十年來,鐵人精神代代相傳,
For decades, the iron man spirit has been passed down from generation to generation.
從鐵人王進喜"寧肯少活二十年,拼命也要拿下大油田";
The Iron Man Wang Jinxi once said: "I'm determined to vanquish the oilfield even at the price of taking off 20-year life."
到大慶"新鐵人"王啟民"寧肯把心血熬幹,也要讓油田穩産再高産";
Wang Qimin, the new Iron Man in Daqing, "swore to exert his utmost effort for high and stable productions of oil".
再到第三代鐵人李新民把井打到國外去,"寧肯曆盡千難萬險,也要為祖國獻石油",
The third generation iron man Li Xinmin drilled oil wells abroad and "would overcome all difficulties to dedicate oil to the motherland".
鐵人精神走進了石油人的內心深處。
These examples reveal that the iron man spirit has taken roots in the heart of oilmen.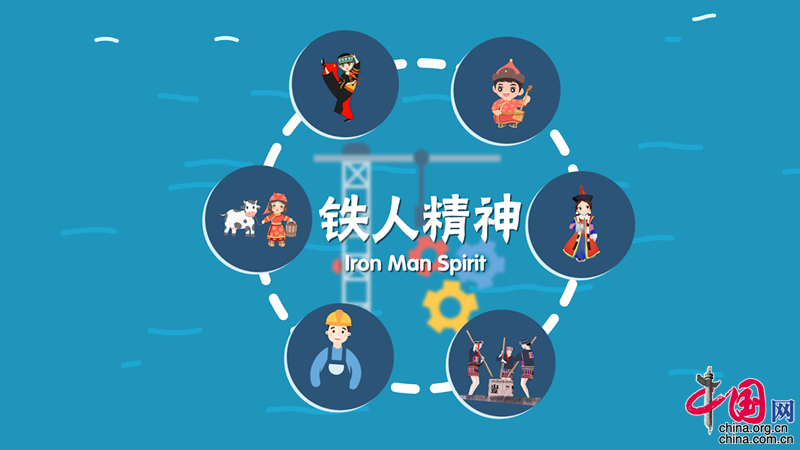 新時代,我們要繼續弘揚"鐵人精神",守"鐵人"忠魂、立"鐵人"意志、學"鐵人"幹事、承"鐵人"作風,

In the new era, we will continue to carry forward the "iron man spirit", maintain loyalty, and a strong will, learn from the iron men and continue their style of work.
在工作和生活當中,多一些學習鑽研、多一些精益求精,
More emphasis should be put on study and excelsior in work and life.
以敢於攻堅的姿態應對挑戰,以只爭朝夕的幹勁履職擔當。
We ought to confront the challenge with courage to overcome obstacles and seize every minute to take on duties.
偉大時代呼喚偉大精神,偉大事業更需榜樣引領。
Great era calls for great spirit, and great cause needs models to lead.
"鐵人精神"是激勵中華兒女拼搏奮進的強大精神動力,
The "iron man spirit" is a powerful spiritual impetus for Chinese people to strive and forge ahead.
我們應以"鐵人"為標桿,將"鐵人精神"融入生活中的每一處細節。
With "iron man" as a benchmark, we should integrate the "iron man spirit" into all aspects of life.