2014年4月,習近平總書記在考察新疆和新疆生産建設兵團時勉勵援疆幹部把"熱愛祖國、無私奉獻、艱苦創業、開拓進取"的兵團精神同呂梁精神結合起來發揚光大,為建設新疆貢獻力量。
In April 2014, when General Secretary Xi Jinping inspected Xinjiang and the Xinjiang Production and Construction Corps, he encouraged cadres aiding Xinjiang to carry forward the spirit of the corps of "loving country, dedicating selflessly, working hard, pioneering and pushing ahead" in combination with the spirit of Lvliang, and contribute to the construction of Xinjiang.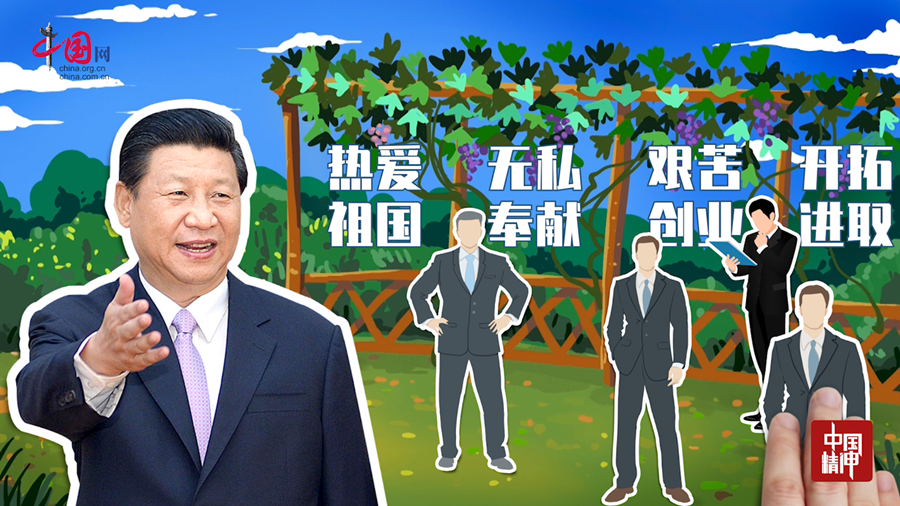 有這樣一群人,他們有知識,有魄力,披著戰火煙塵,飲馬天山南北,奔赴荒原,艱苦奮鬥,白手起家,將瞄準儀變成了水準儀,將火炮鑄成了牛犁,在戈壁荒灘開闢出了片片綠洲,建起了座座工廠,忠實地履行國家賦予的屯墾戍邊的光榮使命,在開發建設新疆、增進民族團結、推進社會進步、鞏固西北邊防等方面立下了顯赫戰功,十萬兵團兒女用青春熱血和生命鑄就了"兵團精神"。
There are such a group of people who are knowledgeable and courageous. They crossed the flames of war to Tianshan Mountains. On the wasteland, they worked hard from scratch. Through their efforts, gradienter and plough took place of collimator and artillery to transform the bare wasteland into oasis and build a number of factories. They have faithfully fulfilled the glorious mission of constructing the border areas and guarding the territorial boundaries entrusted by the country, and made outstanding achievements in developing and constructing Xinjiang, promoting ethnic unity and social progress, and consolidating northwest border defense. Hundreds of thousands of people in the corps devoted their youth, enthusiasm and lives to form "the spirit of the corps".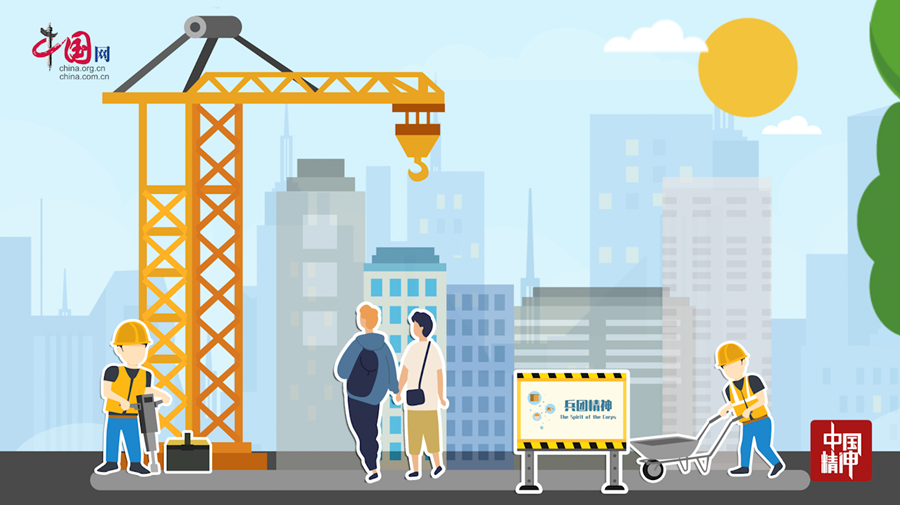 屯墾戍邊,率領人民解放軍駐疆部隊開展大規模生産運動的王震同志;戍邊守防,在草湖鎮開荒生産,開創"軍墾第一犁"的張富清同志;堅守新疆巴爾魯克山的初心,兵團邊境連隊衛生室的女醫生梅蓮;"一生只做一件事,我為祖國當衛士"的馬軍武夫婦……在漫長的屯墾戍邊中,兵團廣大幹部職工形成了"熱愛祖國、無私奉獻、艱苦創業、開拓進取"的兵團精神。
Wang Zhen led the PLA Xinjiang garrison to open up wasteland, guarded the borderline, and carry out large-scale production campaigns; Zhang Fuqing guarded the territorial boundaries and reclaimed wasteland in Caohu Town, creating "the first plough of army reclamation"; Mei Lian, a female doctor of the company healthcare clinic in the corps, stays true to the original aspiration in Ba'erluke Mountain; Ma Junwu and his wife are "determined to defend the country's borders all the life"... In the long process of reclaiming wasteland and safeguarding the borderline, the cadres and staff of the corps have formed the spirit of the corps of "loving country, dedicating selflessly, working hard, pioneering and pushing ahead".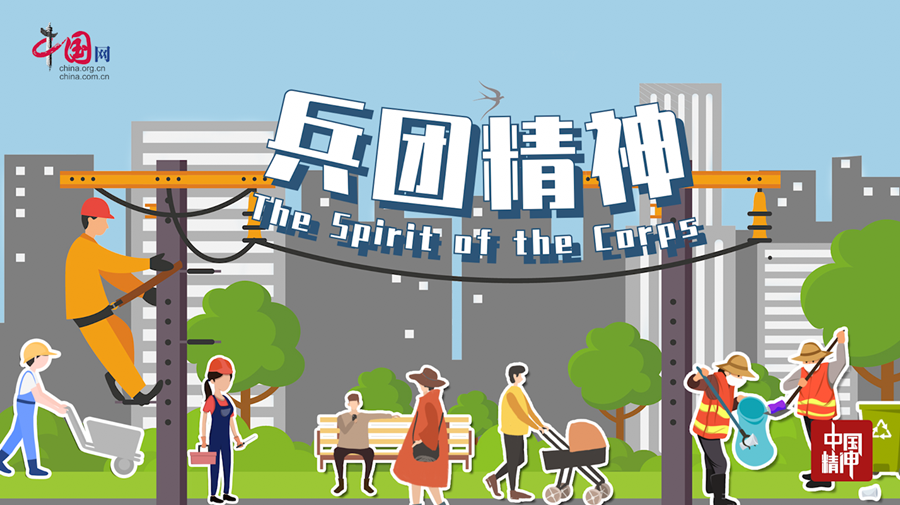 60多年來,幾代兵團人紮根新疆沙漠周邊和邊境沿線,為繁榮新疆的經濟發展和維護社會穩定,以堅忍不拔的意志和無私無畏的勇氣戰勝前進道路上的一切艱難險阻,譜寫了一曲曲感天動地的時代凱歌。
For more than 60 years, generations of people in the corps have taken root around the deserts and along the borderline in Xinjiang. For the economic development and social stability in Xinjiang, they, with perseverance and courage, have overcome all the difficulties and obstacles, composing touching triumphs of times.