2020年11月8日,習近平總書記對川藏鐵路開工建設作出重要指示指出,川藏鐵路沿線地形地質和氣候條件複雜、生態環境脆弱,修建難度之大世所罕見,廣大鐵路建設者要發揚"兩路"精神和青藏鐵路精神,科學施工、安全施工、綠色施工,高品質推進工程建設,為全面建設社會主義現代化國家作出新的貢獻。
On 8 November 2020, General Secretary Xi Jinping made important instructions on the construction of the Sichuan-Tibet Railway. Facing with the complex geological and climatic conditions, as well as fragile ecological environment along the project line, and rarely-seen difficulties of construction, the railway builders should carry forward the spirit of the "Two Roads" and the spirit of the Qinghai-Tibet Railway to carry out the construction in a scientific, safe and eco-friendly way and advance the construction with high quality, so as to make new contributions to fully building a modern socialist country.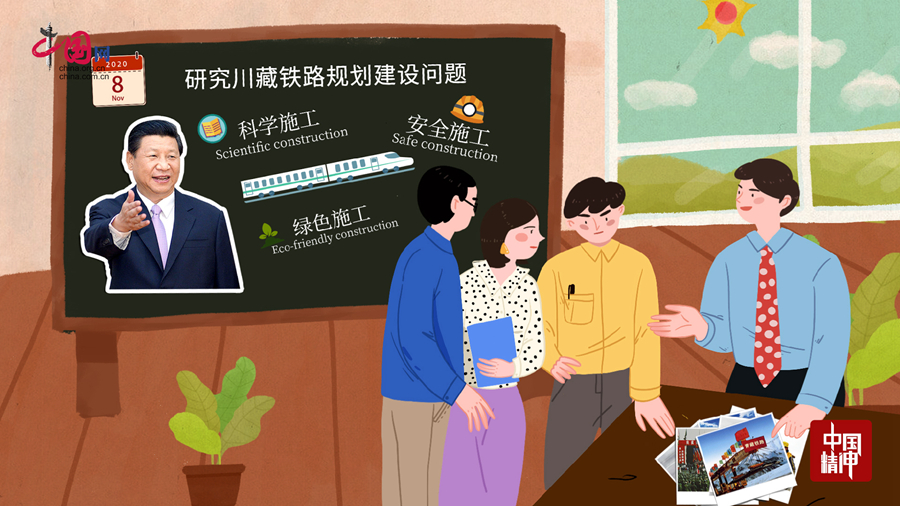 2006年7月1日全線通車的青藏鐵路,建在海拔4000多米的青藏高原上,這條全長1956公里的鐵路被譽為"世界屋脊上的鋼鐵大道"。青藏鐵路的建設是當時世界上公認的"極限挑戰",科研人員幾十年矢志不渝觀察凍土,勘測人員數十次往返無人區經受生死考驗,醫務工作者在"生命禁區"創造"零死亡"紀錄奇跡,施工人員敢打善攻,監理人員嚴格把關。多年凍土、生態脆弱、高寒缺氧——三大世界性高原鐵路難題,一個個被他們攻克。
The Qinghai-Tibet Railway, opened to traffic on July 1, 2006, was built on the Qinghai-Tibet Plateau at an altitude of more than 4,000 meters. The1956-kilometer railway is known as the "Steel Avenue on the Roof of the World". The construction of the Qinghai-Tibet Railway was a widely recognized "extreme challenge" in the world at that time. However,the researchersobserved the permafrost for decades; the surveyors risked their lives making dozens ofjourneys to no man's land; the medical workerscreated the miracle of"zero death" in the "forbiddenzone oflife";the workers are of courage and skills in the railway construction andthe supervisors strictly oversaw the construction of the railway. Permafrost, ecological frangibility, high-cold and oxygen deficit—the three worldwide problems for plateau railway construction were solved by them one by one.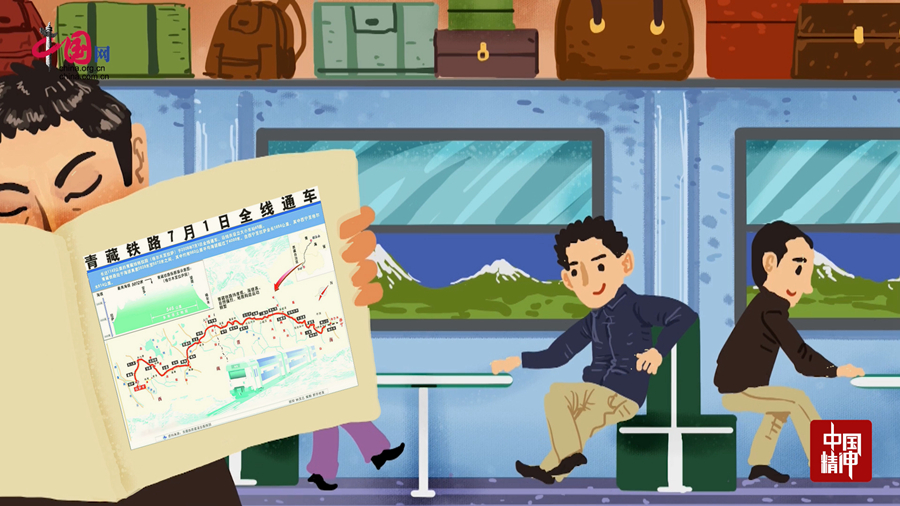 青藏鐵路精神之火,點燃了幾代人的夢想與豪情。青藏鐵路建設者們在偉大的工程實踐中標注出"挑戰極限,勇創一流"的青藏鐵路精神,超越自然環境的限制、戰勝自然災害的鬥爭,激勵廣大青年不斷創造、不懈奮鬥、團結協作、追逐夢想。
The spiritual fire ofthe Qinghai-Tibet Railway has kindled the dreams and aspirations of several generations. In their great engineering practices, the builders of the Qinghai-Tibet Railway have created the spirit of the Qinghai-Tibet Railway of "pushing the limit to be the first-class". They overcame the limitations of the natural environment and natural disasters, inspiring the young people to create and work tirelessly, unite and cooperate to chase their dreams.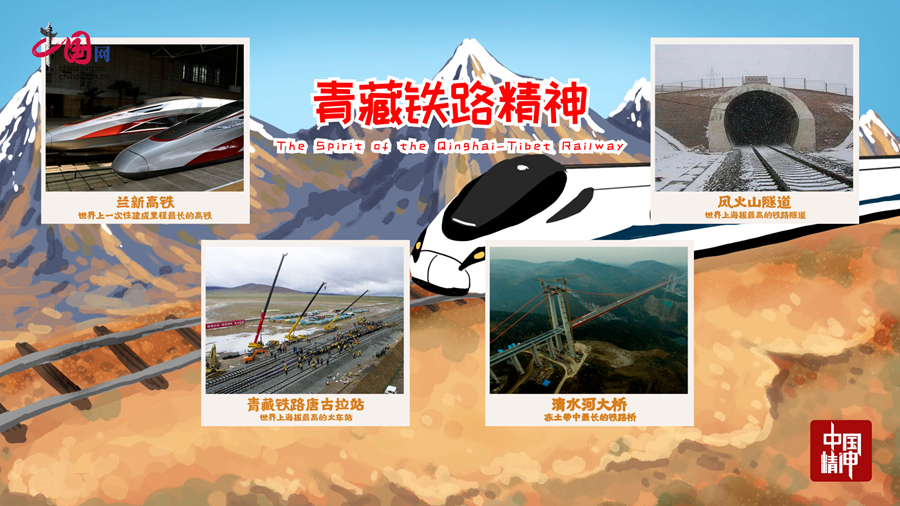 青藏鐵路是一條神奇的天路,是高原百姓的團結路、致富路、幸福路。雪域高原的建設者們以驚人的毅力和勇氣在"世界屋脊"上創造了中國鐵路一個又一個輝煌,開創了多項人類建設史上的奇跡,這是中國人自強不息的具體體現,也是人類鐵路建設史上前所未有的偉大壯舉。
The Qinghai-Tibet Railway is a magical sky road, a road of unity, prosperity and happiness for the peopleof the Plateau. With amazing perseverance and courage, the builderson the snow-covered plateau made one after another brilliant achievements of China's railwayconstructionon the "Roof of the World" and created many miracles in the history of human construction. This is a concrete manifestation of the Chinese people's character of unremitting self-improvement, and it is also an unprecedented great feat in the history of railway construction.