2019
年
8
月
19
日,習近平總書記在敦煌研究院座談時提到,"
一代一代敦煌人秉承
'
堅守大漠、甘於奉獻、勇於擔當、開拓進取
'的莫高精神,在極其艱苦的物質生活條件下,做了大量工作,取得了不少重要研究成果",並對大家表示誠摯的慰問。
On August 19, 2019,General Secretary Xi Jinping mentioned in a symposium in the Dunhuang Academy that "generations of Dunhuang people have been adheringto the Mogao spirit of 'sticking to the desert, making dedication, taking responsibility, pioneering and forging ahead'. In spite of extremely difficult working conditions, they have done a lot of work and achieved many important research results".also expressed his sincere greetings to them.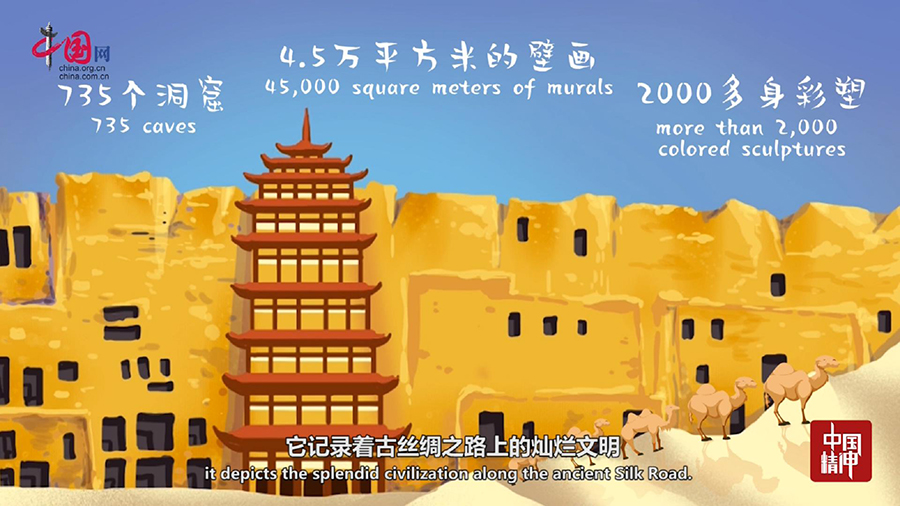 在甘肅河西走廊大漠深處,坐落著一個世界文化瑰寶——敦煌莫高窟。735個洞窟、4.5萬平方米的壁畫、2000多身彩塑,它記錄著古絲綢之路上的燦爛文明。歷經千年,莫高窟曾數經磨難,瀕臨毀滅,為了讓莫高窟這顆絲綢之路上最璀璨的明珠重放光彩,76年來,以常書鴻、段文傑和樊錦詩為代表的幾代敦煌莫高窟文物工作者堅持不懈奮鬥,在敦煌文化遺産保護、研究、弘揚事業中取得了顯著成績。並凝練形成了一種可貴的精神品質"莫高精神",其核心內涵就是"堅守大漠,甘於奉獻,勇於擔當,開拓進取"。
Deep in the desert of Hexi Corridor in Gansu lies a world cultural treasure- Mogao Grottoes in Dunhuang. With45,000 square meters of murals and more than 2,000 colored sculpturesin735 caves, it depicts the splendid civilization along the ancient Silk Road. Over thousands of years, Mogao Grottoes had been through hardships for several times and on the verge of destruction. In order to restore the brilliance of the Mogao Grottoes, the brightest pearl on the Silk Road,in the past 76 years, several generations of cultural relics workers in Mogao Grottoes, represented by Chang Shuhong, Duan Wenjie and Fan Jinshi, have made unremitting efforts to achieve remarkable results in the protection, research and promotion of Dunhuang cultural heritage.They have also formed the valuable Mogao spirit, with "sticking to the desert, making dedication, taking responsibility, pioneering and forging ahead" as the core.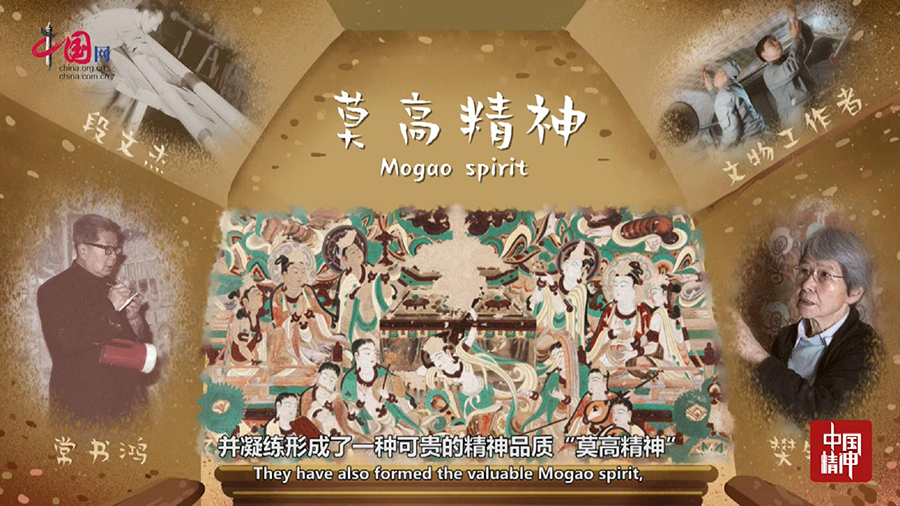 踐行"莫高精神",是守護文化寶藏、鑄就中華文化自信的源泉和動力。我們要學習"莫高人"紮根一線、愛崗敬業、擇一事終一生的家國情懷,求真務實、敢於作為、使命在肩的擔當勇氣,改革奮進、矢志不移、銳意進取的創新精神。砥礪奮進,不斷探索創新,為人類文化遺産的保護做出更多貢獻。
Practicing the Mogao spirit is the source and motivation to protect cultural treasures and buildcultural confidence. We should learn from the Mogao people's love for the county to take root in frontline, love their jobs, and work hard for one thing for the entire life, their responsibility andcourage to be realistic and pragmatic, brave and accountable, and theirinnovation spirit tokeep going and stay determined and enterprising. So that we can forge ahead, continue to explore and innovate, and make more contributions to the protection of human cultural heritage.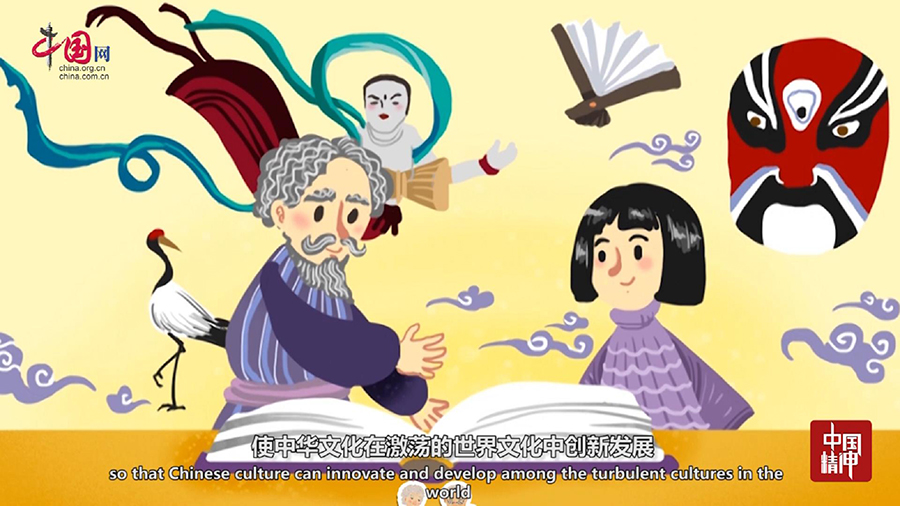 "莫高精神"代代相傳,不僅深深植根于中國優秀傳統文化沃土中,也不斷激發新時代青年堅持不懈、持之以恒的奮鬥精神,鼓舞每一位中華兒女爭做新時代中華文化的繼承者、創新者和傳播者,使中華文化在激蕩的世界文化中創新發展,充滿自信地走向偉大復興。
Passing down from generation to generation, the Mogao spirit is not only deeply rooted in China's fine traditional culture, but also constantly inspires the young people in the new era tostrive ceaselessly. It encourages every Chinese to work hard to be the successor, innovator and communicator of Chinese culture in the new era, so that Chinese culture can innovate and develop among the turbulent cultures in the world and confidently move towards the great rejuvenation.