2019年7月23日,習近平向中國志願服務聯合會第二屆會員代表大會致賀信,
On July 23, 2019, Xi Jinping sent a congratulatory letter to the second congress of the China Volunteer Service Federation (CVSF),
希望廣大志願者、志願服務組織、志願服務工作者立足新時代、展現新作為,
expressing his hope that the volunteers, volunteer service organizations and volunteer service work staff would make new achievements in the new era,
弘揚奉獻、友愛、互助、進步的志願精神,
promote the volunteer spirit of dedication, friendship, mutual help and progress,
繼續以實際行動書寫新時代的雷鋒故事。
and continue the story of Lei Feng in the new era with practical actions.
奉獻、友愛、互助、進步的志願精神與中國傳統文化一脈相承,與社會主義核心價值觀相契合。
The volunteer spirit, featuring dedication, friendship, mutual help and progress, is in line with traditional Chinese culture and conforms to the core socialist values.
其中,"奉獻"是志願者以無償奉獻獨特方式,推動人類文明發展;
Among them, "dedication" depicts volunteers' unique spirit to dedicate themselves to promoting the development of human civilization without asking for anything;
"友愛"是志願者跨越人類一切障礙與差異,傳遞關愛,使社會充滿溫暖;
the spirit of "friendship" support volunteers to overcome all obstacles and differences of human beings and deliver love to make a warm society;
"互助"是志願者以愛心、所長助人自助,促進社會和諧;
"mutual help" represents the practice that volunteers help people and themselves with love and fortes to achieve social harmony;
"進步"是志願者通過道德實踐活動,服務他人,提升自我,促進社會進步。
"progress" means that through moral practice, volunteers could serve the others, enhance themselves, by doing so, to promote the social progress.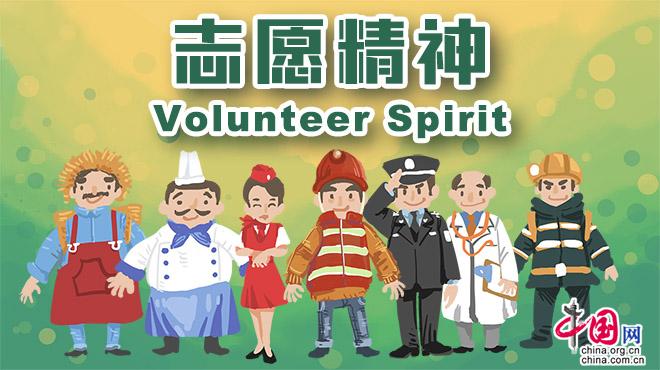 近年來,我國學雷鋒志願服務參與人員越來越多、組織越來越壯大、涉及領域越來越廣。

In recent years, more and more volunteers, organizations and fields have been involved in Learn-from-Lei Feng volunteer activities.
如今,做志願者儼然已經成為一種生活方式。
Nowadays, volunteering has become a way of life.
無論是脫貧攻堅,還是鄉村振興;無論是生態環保,還是鄰里守望,在群眾需要的地方就一定有志願者的身影。
Where there is a need for practices such as poverty alleviation, rural revitalization, eco-environment protection and neighbourhood watch, there must be volunteers.
人人皆願為,人人皆可為,人人皆能為,以無私的奉獻服務困難群眾,
Everyone would, could and can serve the people in need with selfless dedication,
用志願精神彰顯社會大愛。
and embody the great love of society with volunteer spirit.
我們要以實際行動貫徹落實習近平總書記的要求,
We will carry out the requirements of General Secretary Xi Jinping with practical actions,
在"贈人玫瑰、手有餘香"中感受善的力量,
feel the power of goodness as the old saying goes, "roses given, fragrance in hand",
在民族復興偉業中書寫志願服務新篇章。
and write a new chapter of volunteer service in the great cause of national rejuvenation.