2019年7月16日下午,習近平聽取了內蒙古自治區黨委和政府工作
On the afternoon of July 16, 2019, Xi Jinping listened to the report on the work of Party Committee and government of Inner Mongolia Autonomous Region,
與開展"不忘初心、牢記使命"主題教育情況彙報,
and the campaign on the theme of "staying true to our founding mission".
對內蒙古各項工作取得的成績給予肯定,
He recognized the achievements of various work made in Inner Mongolia,
希望內蒙古的同志認真貫徹黨中央要求,
and hoped that the comrades there would earnestly implement the requirements of the CPC Central Committee
弘揚蒙古馬精神,努力把各項工作做得更好。
and carry forward Mongolian horse spirit to do all work better.
早在2014年初,習近平總書記考察內蒙古自治區時講到:
As early as the beginning of 2014, General Secretary Xi Jinping visited the Inner Mongolia Autonomous Region and said:
"馬年春節就要到了,我想到了蒙古馬,
"The upcoming Spring Festival of the Year of Horse reminds me of Mongolian horse.
蒙古馬雖然沒有國外名馬那樣的高大個頭兒,
In spite of shorter height than foreign famous horses,
但耐力強、體魄健壯,
it enjoys good endurance and strong physique.
希望大家要有蒙古馬那樣吃苦耐勞、勇往直前的精神。"
I hope you practice the spirit of bearing hardships and going forward as Mongolian horses."
這就是習近平總書記所闡述的"蒙古馬精神"內涵。
This is the connotation of "Mongolian horse spirit" expounded by General Secretary Xi Jinping.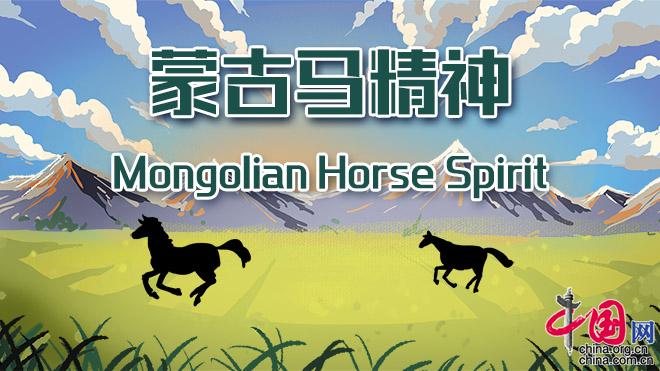 內蒙古有句諺語:"千里疾風萬里霞,追不上百岔的鐵蹄馬"。

A proverb in Inner Mongolia says that "even wind and rosy clouds cannot overtake a Mongolian horse".
蒙古馬可以日夜前行並保持同樣的速度,
Moving forward day and night at the same speed,
一旦號令下達,任何惡劣氣候和環境下都阻擋不住蒙古馬的步伐。
Mongolian horse will never stop its steps despite harsh climate or environment once receiving order.
蒙古馬是世界上最古老的馬品種之一,生命頑強,潔身自愛,
As one of the oldest horse breeds in the world, Mongolian horse is tenacious and self-loving.
其堅韌不拔、勇往直前、忠於職守、甘於奉獻的品質深深地影響著人們。
Its qualities of tenacity, courage, loyalty to duty and dedication have been deeply influencing people.
吃苦耐勞、勇往直前的"蒙古馬精神",
The Mongolian horse spirit featuring bearing hardships and marching forward,
不僅是草原民族的偉大精神,
is not only internalized in the great spirit of the grassland people,
同樣也深深紮根在中國精神內涵中。
but takes deep roots in the spirit of China.
"蒙古馬精神"已演化為偉大的民族精神,成為中華民族的寶貴精神財富。
It has evolved into a great national spirit and become the precious spiritual wealth of the Chinese nation.
在新時代,我們要學習蒙古馬精神,
In the new era, we should learn from the Mongolian horse spirit
一往無前,吃苦耐勞,團結奮鬥,攻堅克難,
to press forward, bear hardships, strive together and overcome difficulties,
贏得中國經濟社會持續健康發展的新勝利。
so as to win new victories in the sustained and healthy development of China's economy and society.