2020年4月23日,習近平總書記給參與"東方紅一號"任務的老科學家回信,向他們致以誠摯的問候,信中提到,新時代的航太工作者要以老一代航太人為榜樣,大力弘揚"兩彈一星"精神,敢於戰勝一切艱難險阻,勇於攀登航太科技高峰,讓中國人探索太空的腳步邁得更穩更遠,早日實現建設航太強國的偉大夢想。
On April 23, 2020, General Secretary Xi Jinping wrote back to the elder scientists who participated in the Dongfanghong-1 mission, and extended sincere greetings to them. In the letter, Xi said in the new era, workers in the aerospace sector should follow the example set by the elder scientists, and uphold the "spirit oftwo bombs and one satellite". He encouraged space industry professionals to overcome difficulties and hardships to achieve new heights in space science and technology, and expected them to strive to strengthen and expand our space exploration and make our country a great space power as soon as possible.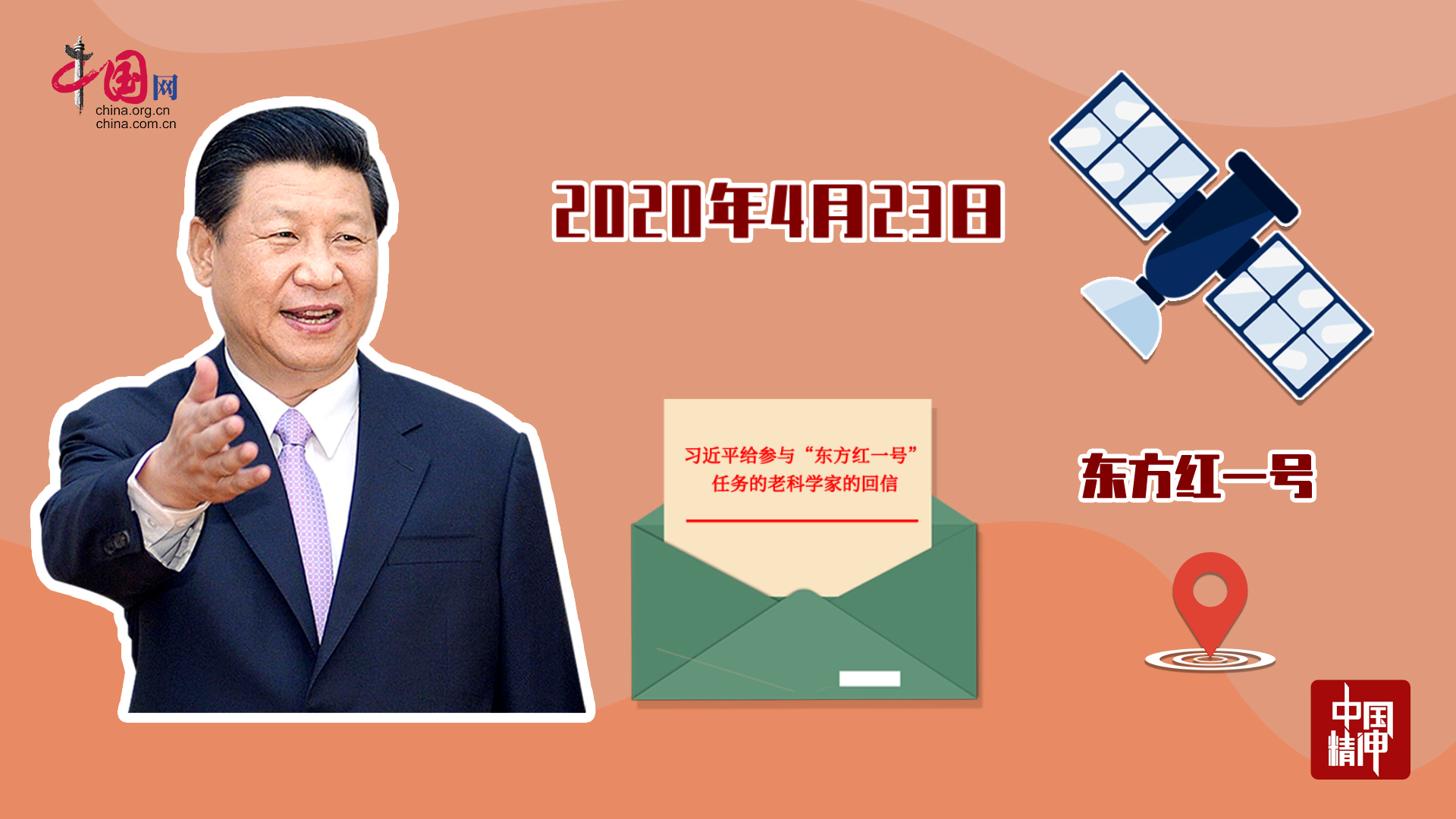 1964年10月,羅布泊一聲巨響,伴隨著一團蘑菇雲升起,我國第一顆原子彈爆炸成功;1967年6月,我國第一顆氫彈空爆試驗成功,成為世界上第四個掌握氫彈技術的國家;1970年4月,我國第一顆人造衛星發射成功,成為世界第五個獨立發射衛星的國家。這是廣大研製工作者在攀登現代科技高峰的征途中創造的奇跡,把熱愛祖國、無私奉獻、自力更生、艱苦奮鬥、大力協同、勇於攀登的"兩彈一星"精神永久地鐫刻在中國大地上。
In October 1964, with a deafening sound and a mushroom cloud in Lop Nur, China exploded its first atomic bomb. In June 1967, China successfully tested its first hydrogen bomb, becoming the fourth country in the world to master the technology of hydrogen bomb. In April 1970, China's first man-made satellite was successfully launched, which listed China as the fifth country in the world to develop and launch a man-made satellite on its own. These are miracles created by the vast number of researchers in exploring modern science and technology. The spirit of "two bombs and one satellite" featuring love of the country, selfless dedication, self-reliance, hard work, active coordination and courage to climb has been permanently engraved on the land of China.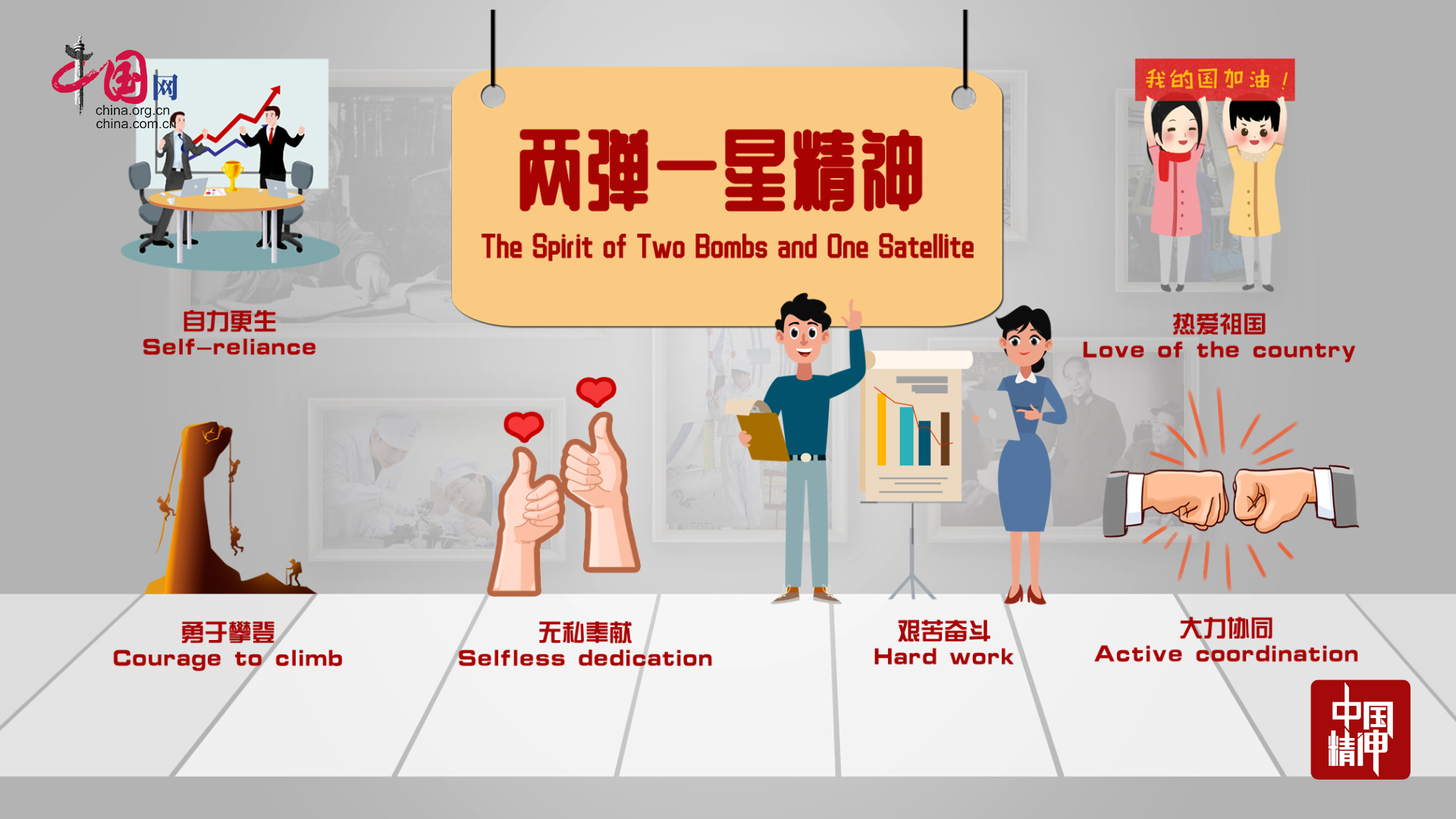 研製"兩彈一星"是在我國物質技術基礎十分薄弱的條件下進行的,他們以帳篷為家,以戈壁黃沙為伴,自強自立,最終建成了中國的"原子城"。錢學森勇毅擔當"外國人能幹的,中國人都能幹";孫家棟説"搞'兩彈一星',必須自力更生,我們中國人是壓不倒的";"氫彈之父"于敏28載隱姓埋名,填補中國原子核理論的空白。
The "two bombs and one satellite" project was carried out when China's material and technological foundation was very weak. Living in the tents on the Gobi, the self-reliant scientists eventually built China's "Atomic City". Qian Xuesen was courageous and responsible. He said "what foreigners can do, we Chinese can also do it"; Sun Jiadong said "to engage in 'two bombs and one satellite' project, one must be self-reliant. We Chinese cannot be overwhelmed"; Yu Min, known as "the father of China's hydrogen bomb", remained anonymous for 28 years to fill the gap in China's nuclear theory.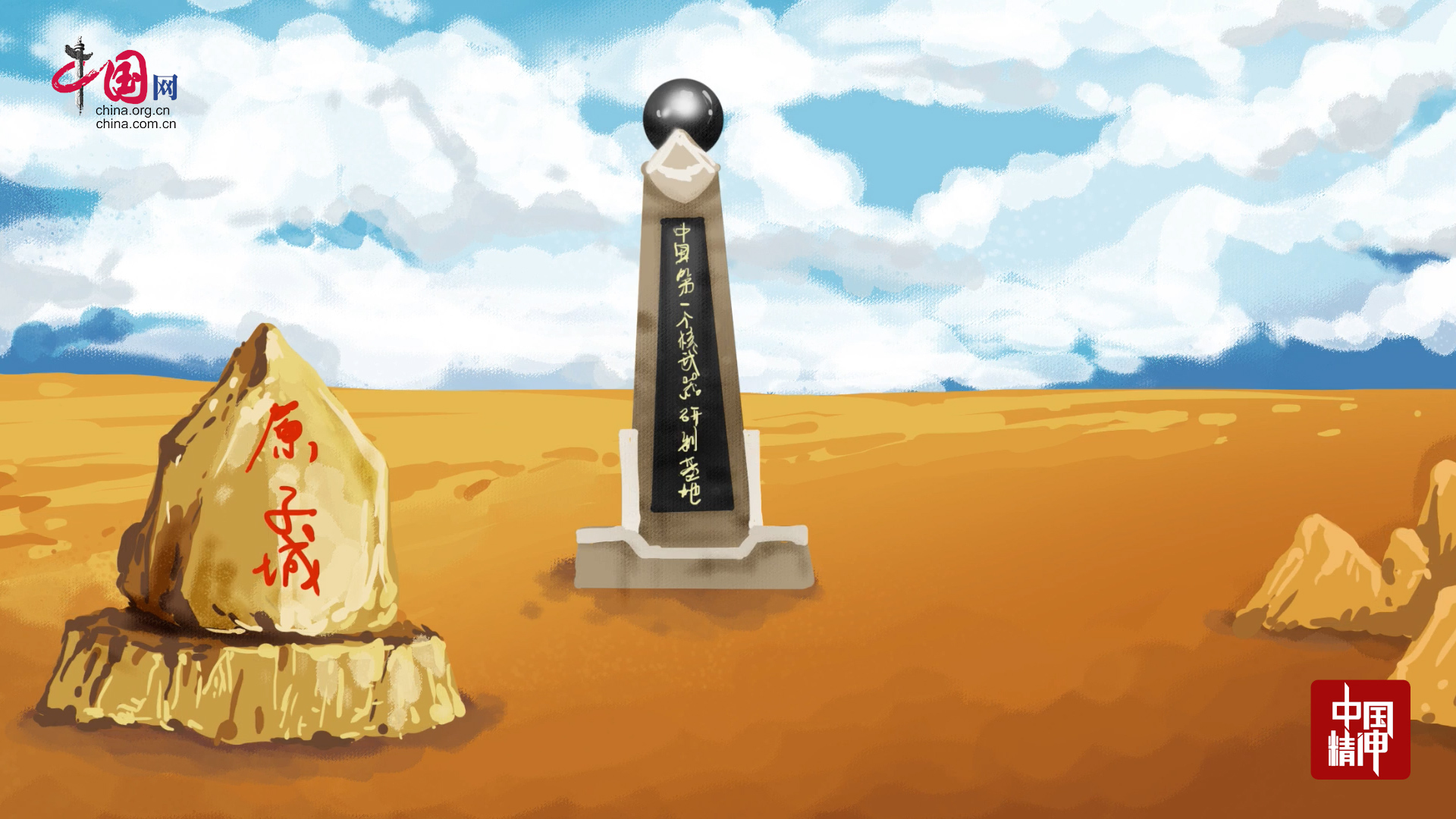 我國"兩彈一星"的事業是集體的事業,它取得的每一次成功,都凝聚著千萬人的奮鬥和創造,輝煌和光榮屬於每一個在這條戰線上大力協同、勇於登攀的無名英雄,屬於全體中國人民,屬於自強不息的中華民族!
China's "two bombs and one satellite" project is a collective cause. Every success it has achieved is the result of the efforts and creativity of thousands of people. The glory belongs to every unsung hero who works with great effort on this front, to all Chinese people, and to the Chinese nation that never pauses in the pursuit of progress!