2021年2月25日上午,全國脫貧攻堅總結表彰大會隆重舉行。習近平總書記充分肯定了脫貧攻堅取得的偉大成績,深刻總結了脫貧攻堅的光輝歷程和寶貴經驗,深刻闡述了偉大脫貧攻堅精神:"上下同心、盡銳出戰、精準務實、開拓創新、攻堅克難、不負人民"。

On the morning of February 25, 2021, a grand gathering was held to mark China's accomplishments in poverty alleviation and honor the model poverty fighters. General Secretary Xi Jinping expressed full acknowledgment of the great achievements made in the fight against poverty, thoroughly reviewed the glorious process and valuable experience of poverty alleviation, and elaborated the great poverty alleviation spirit as "working together, sparing no effort, taking targeted and practical measures, keeping pioneering and innovative, overcoming difficulties and never failing the people".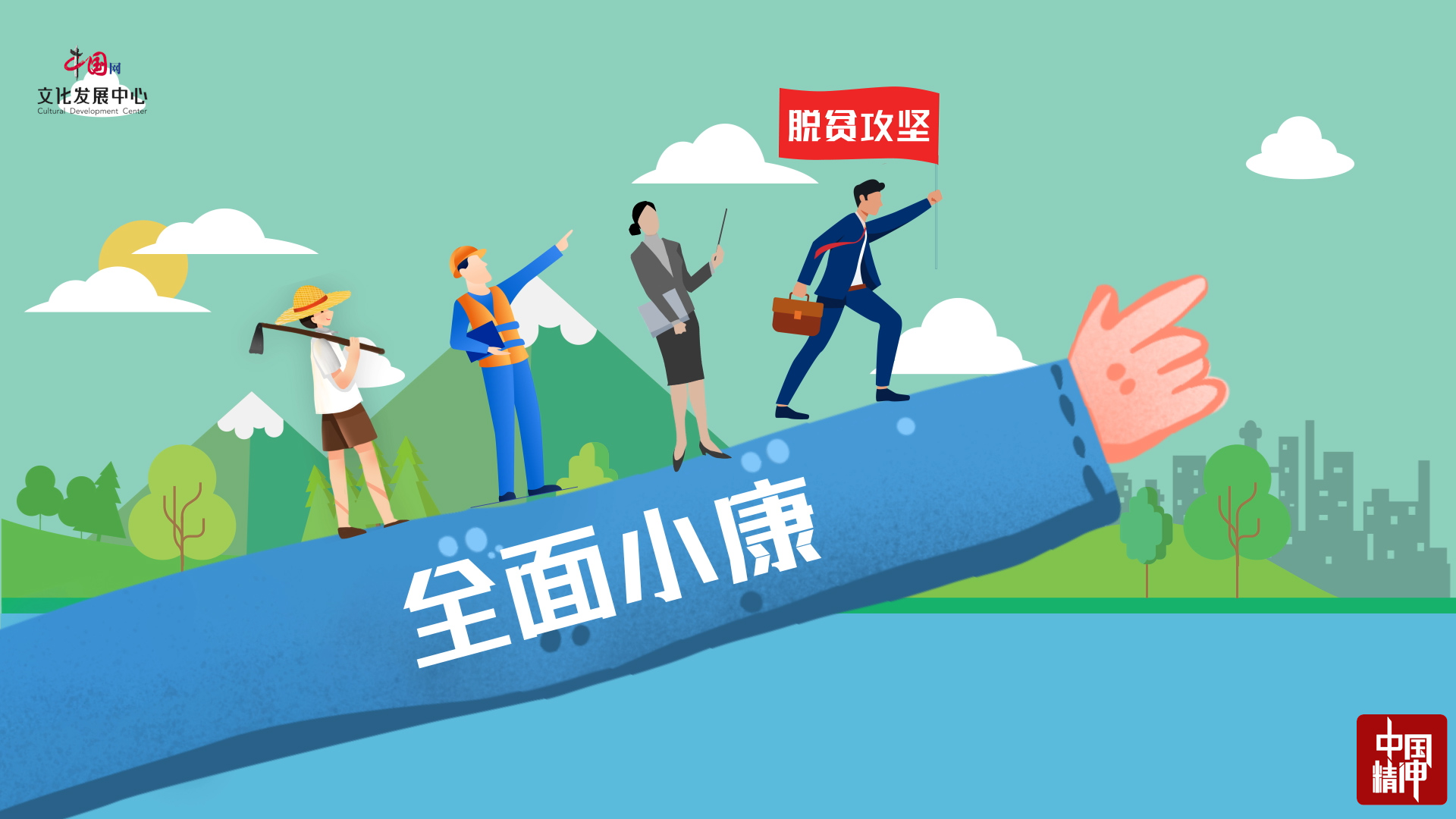 全面建成小康社會,一個不能少;共同富裕路上,一個不能掉隊。歷經8年脫貧攻堅,中國832個貧困縣全部摘帽,現行標準下近1億農村貧困人口全部脫貧,貧困人口每人平均純收入增加到10740元,專項扶貧資金累計投入近1.6萬億元,易地扶貧搬遷人口超960萬,改造貧窮地區學校10.8萬所,貧困人口住院醫療費用報銷比例提高到80%左右,銷售扶貧産品3000多億元,對世界減貧貢獻率超過70%……14億中國人民完成了消除絕對貧困的艱巨任務,創造了人類減貧史上的奇跡,並在這場偉大鬥爭中創造出了偉大的脫貧攻堅精神。
Not a single person should be left behind in building a moderately prosperous society in all respects and realizing common prosperity. Over the past eight years of poverty alleviation, all the 832 impoverished counties in China have been removed from the poverty list; nearly 100 million impoverished rural residents living under the current poverty line have all been lifted out of poverty; the per capita net income of the impoverished people has increased to 10,740 yuan; Nearly 1.6 trillion yuan of fiscal funds have been invested into poverty alleviation; more than 9.6 million people have been relocated from impoverished areas;108,000 schools in poor areas have been upgraded; the reimbursement rate for hospitalization expenses of impoverished people has been raised to about 80%; sales of poverty alleviation productshave reached more than 300 billion yuan; China has contributed more than 70% to global poverty reduction... The 1.4 billion Chinese people have completed the arduous task of eradicating absolute poverty, creating a miracle in the history of poverty reduction, and giving birth to a great poverty alleviation spirit.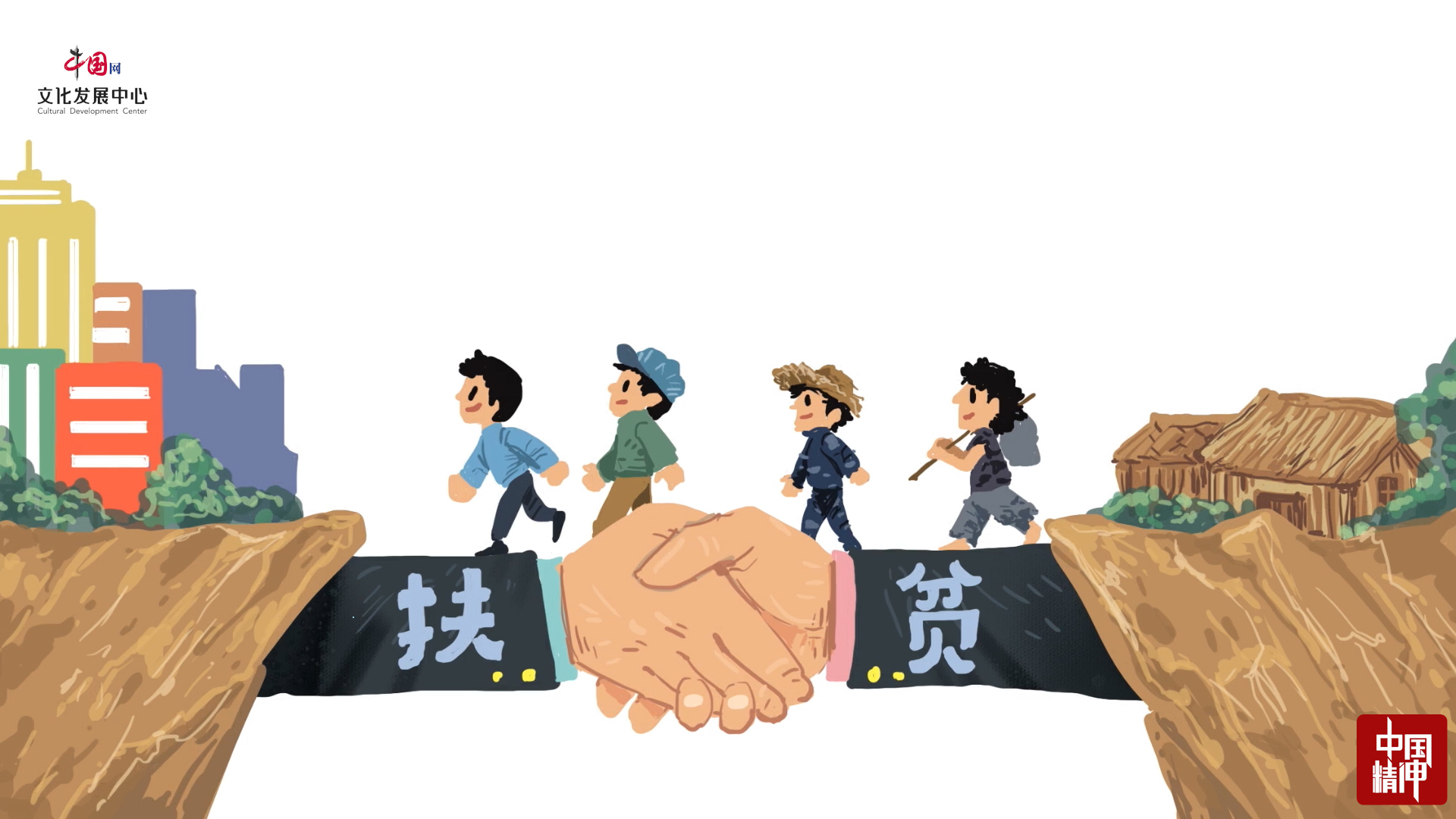 在脫貧攻堅戰場上,沒有槍林彈雨,但依然需要衝鋒陷陣、勇往直前。35年堅守太行山的"新愚公"李保國,獻身教育扶貧、點燃大山女孩希望的張桂梅,用實幹兌現"水過不去、拿命來鋪"誓言的黃大發,回鄉奉獻、譜寫新時代青春之歌的黃文秀,紮根脫貧一線、鞠躬盡瘁的黃詩燕……他們用熱血和忠誠兌現了自己的誓言,用脫貧實績回報了群眾的期盼。在脫貧攻堅精神的指引下,廣大群眾迸發出改變命運的創造偉力,激發出源源不斷的內生動力,以腳踏實地的努力、毫不懈怠的拼搏,一步一個腳印邁向幸福新生活。
In the fight against poverty, there is no hail of bullets, but we still need to march forward bravely. Li Baoguo, the "New Yugong" who had stuck to the Taihang Mountains for 35 years, Zhang Guimei, who dedicates herself to poverty alleviation through education and brings hope to girlsfrom mountain areas, Huang Dafa, who fulfilled his vow of "building a canal with my life" with his action, Huang Wenxiu, who returned to her hometown to make dedication and composed the song of youth in the new era, Huang Shiyan, who spared no effort in the front line of poverty alleviation… With their devotion and loyalty, they have fulfilled their vows and repaid people's expectations with their achievements in poverty alleviation. Guided by the poverty alleviation spirit, the people have burst out great creativity to change their lives and unleashed endless internal driving force. With down-to-earth efforts and unswerving endeavor, they have made steady progress toward a happy new life.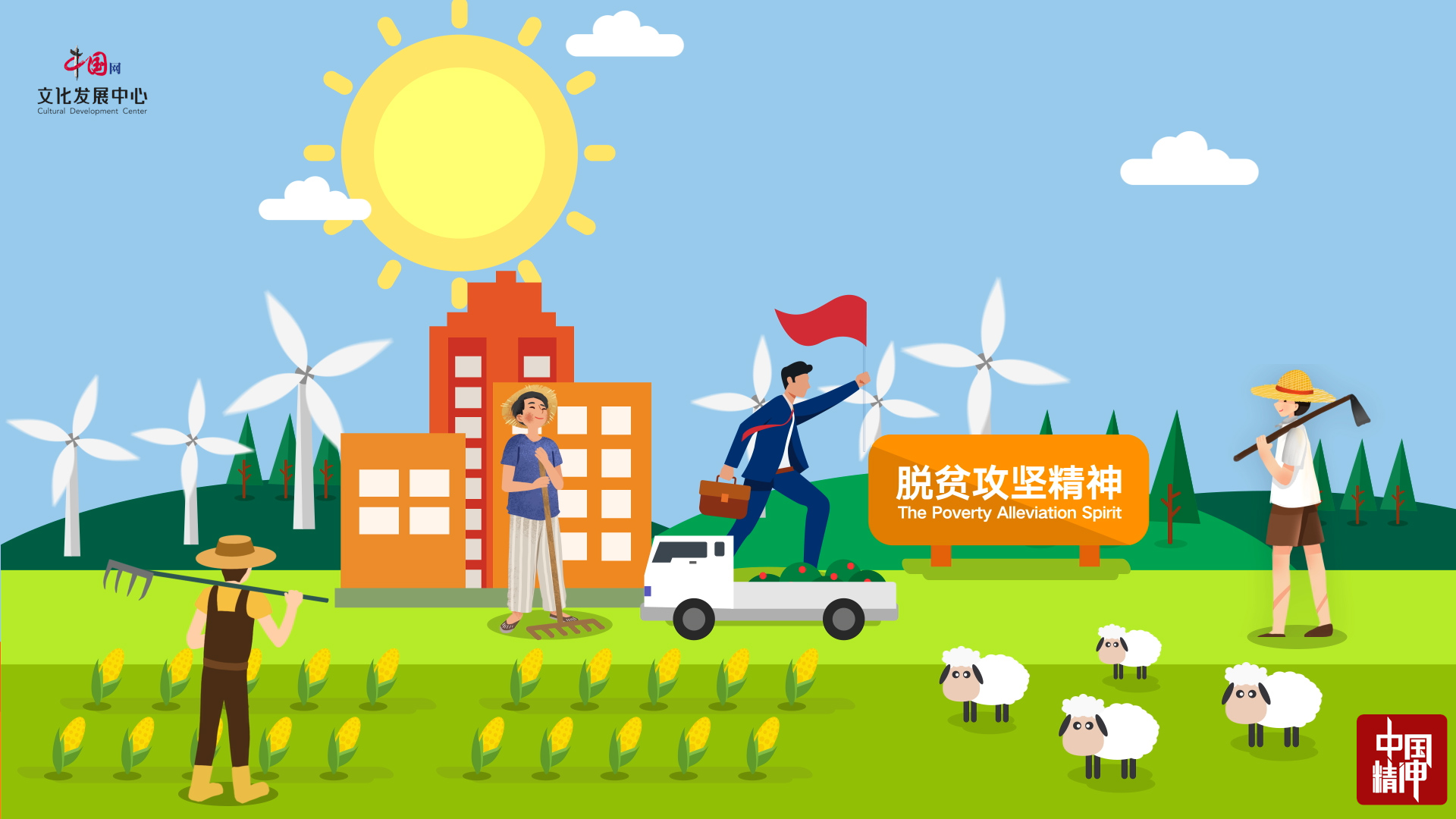 偉大事業孕育偉大精神,偉大精神引領偉大事業。脫貧攻堅偉大鬥爭,鍛造形成了"上下同心、盡銳出戰、精準務實、開拓創新、攻堅克難、不負人民"的脫貧攻堅精神。我們通過奮鬥,披荊斬棘,走過了萬水千山。我們還要繼續奮鬥,勇往直前,創造更加燦爛的輝煌!
A great cause gives birth to a great spirit, and a great spirit leads a great cause. The great struggle against poverty has forged the poverty alleviation spirit of "working together, sparing no effort,taking targeted and practical measures,keeping pioneering and innovative, overcoming difficulties and never failing the people". We have strived, broken through brambles and thorns, and crossed ten thousand rivers and thousands of mountains. We will continue to strive, march ahead with courage, and create brighter glory!