"追逐夢想、勇於探索、協同攻堅、合作共贏",2020年12月17日,在歷經23天重重考驗後,嫦娥五號返回器攜帶月球樣品成功返回地面,探月工程嫦娥五號任務取得圓滿成功,習近平總書記高度肯定了廣大航太人的卓越功勳並首次集中概括了探月精神。

"Pursuing dreams, daring to explore, cooperating in tackling difficulties and win-win cooperation". On December 17, 2020, after 23 days of tests, the return capsule of Chang'e 5 probe returned to the earth with lunar samples, marking a complete success of the Chang'e-5 lunar mission. General Secretary Xi Jinping highly affirmed the outstanding achievements of aerospace personnel and summarized the spirit of lunar exploration for the first time.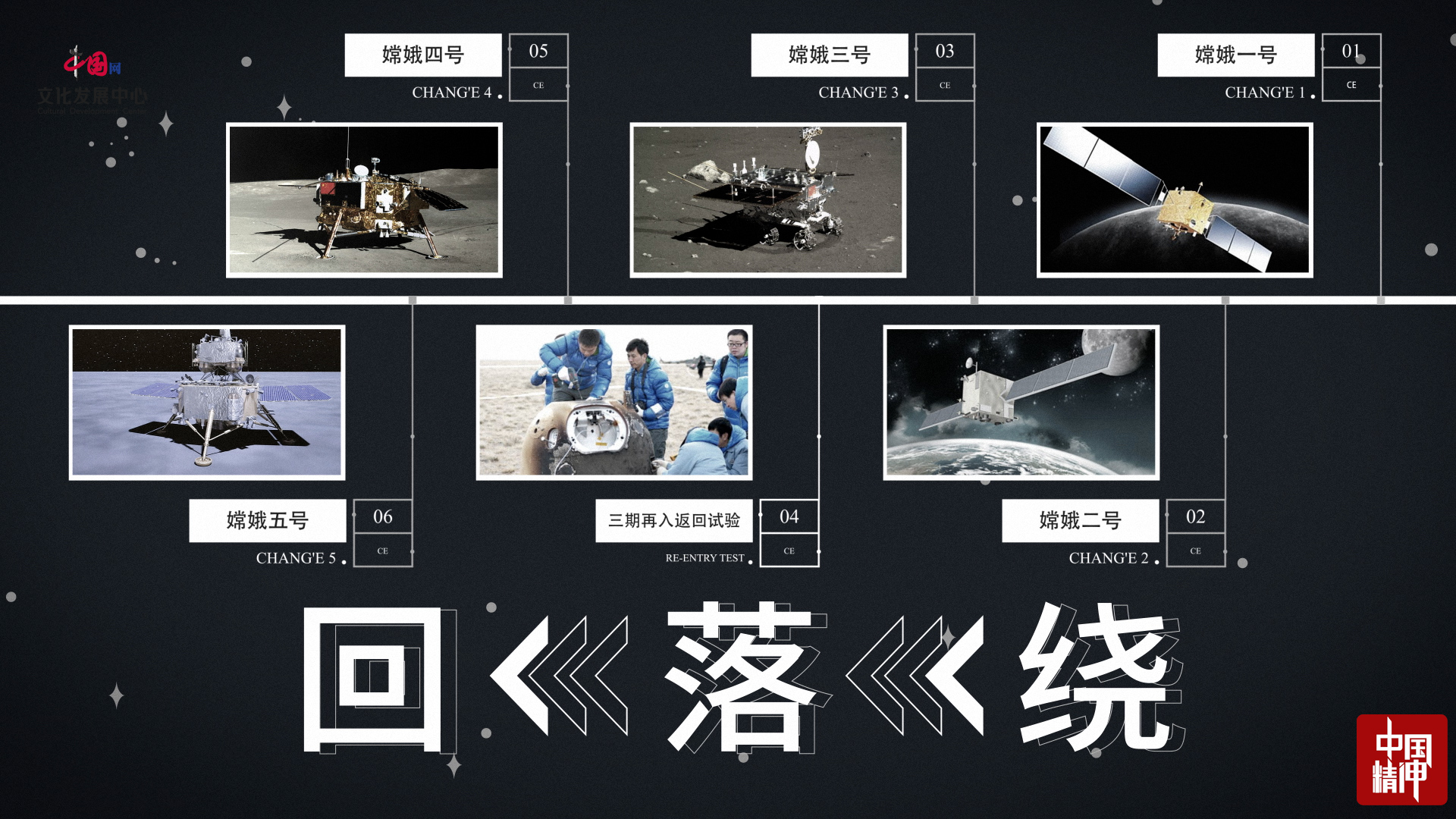 "敢上九天攬月",這是中國人的夢想與豪情。從嫦娥一號拉開探月序幕,到嫦娥三號帶著第一輛月球車"玉兔號"成功登月,再到嫦娥五號攜帶月球樣品成功返回地面,中國探月工程如期實現"繞、落、回"三步走規劃,標誌著中國航太向前邁出的一大步。2004年我國探月工程正式立項,在這17年間,一代代科技工作者大力弘揚"追逐夢想、勇於探索、協同攻堅、合作共贏"的探月精神,鋪築了中國人的探月之路。
"We can clasp the moon in the Ninth Heaven." This is the dream and courage of the Chinese people. From Chang'e-1 lunar mission,the beginning of China's lunar exploration program, to Chang'e-3 lunar probe landing on the moon with China's first moon rover Yutu, to Chang'e-5 lunar probe, which brings back the samples collected from the moon, China has fulfilled the three-step lunar exploration program of "orbiting and landing, and sample returning" as scheduled, marking a great step forward in China's space industry. In 2004, China's lunar exploration program was officially approved. Over the past 17 years, generations of scientists have promoted the lunar exploration spirit of "pursuing dreams, daring to explore, cooperating in tackling difficulties and win-win cooperation", paving the Chinese people's lunar exploration road.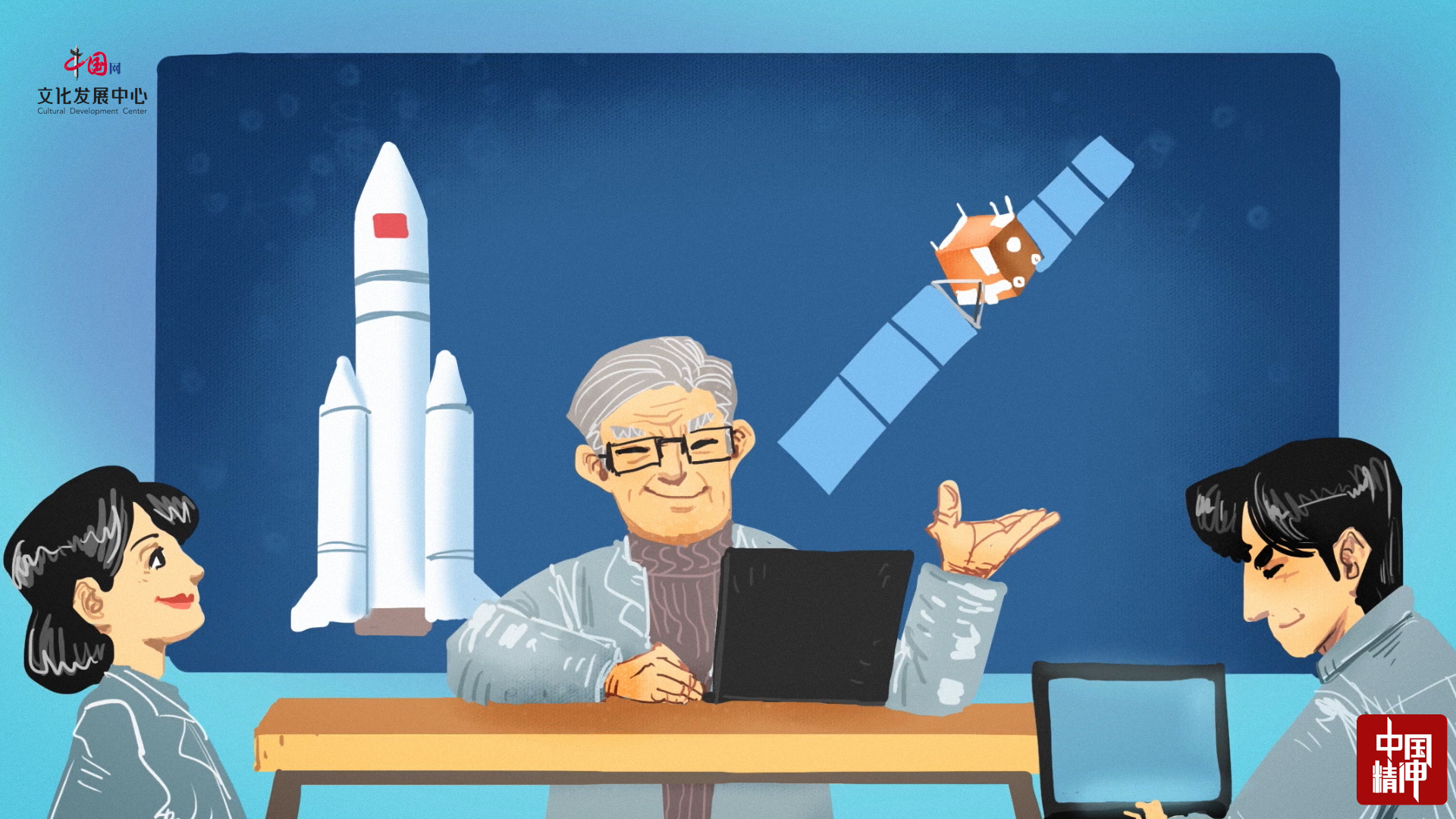 偉大成就源於偉大夢想和實干家的氣魄與智慧。孫家棟、欒恩傑、葉培建等科學家老驥伏櫪、心繫蒼穹,吳偉仁、楊孟飛等一批航太骨幹專家逐夢奮鬥、接續向前,張熇、張玉花等一批航太女科學家巾幗不讓鬚眉、頂起"嫦娥"研製半邊天……一代代航太人用行動詮釋出探月精神,一步一個腳印,一步一個臺階,每一步都取得了新突破,每一步都為下一步奠定了堅實的基礎。成功不是輕輕鬆鬆、敲鑼打鼓就能實現的,必須基於創新、成于實幹,追逐的腳步不停歇,才能取得成果。
Great achievements are the result of great dreams and doers' courage and wisdom. Old scientists such as Sun Jiadong, Luan Enjie and Ye Peijian still keep space exploration on their mind; Wu Weiren, Yang Mengfei and a number of aerospace experts have been working hard to forge ahead;Zhang He, Zhang Yuhua and a group of female space scientists played an important role in "supporting half of the sky of researching Chang'e lunar probe" with no less effort than men. Generations of aerospace personnel have illustrated the lunar exploration spirit with their actions step by step. New breakthroughs were made at every step, and each step has laid a solid foundation for the next step. It will take more than drum beating and gong clanging to succeed. Only with innovation as base, through hard work and continuous pursuit will we achieve results.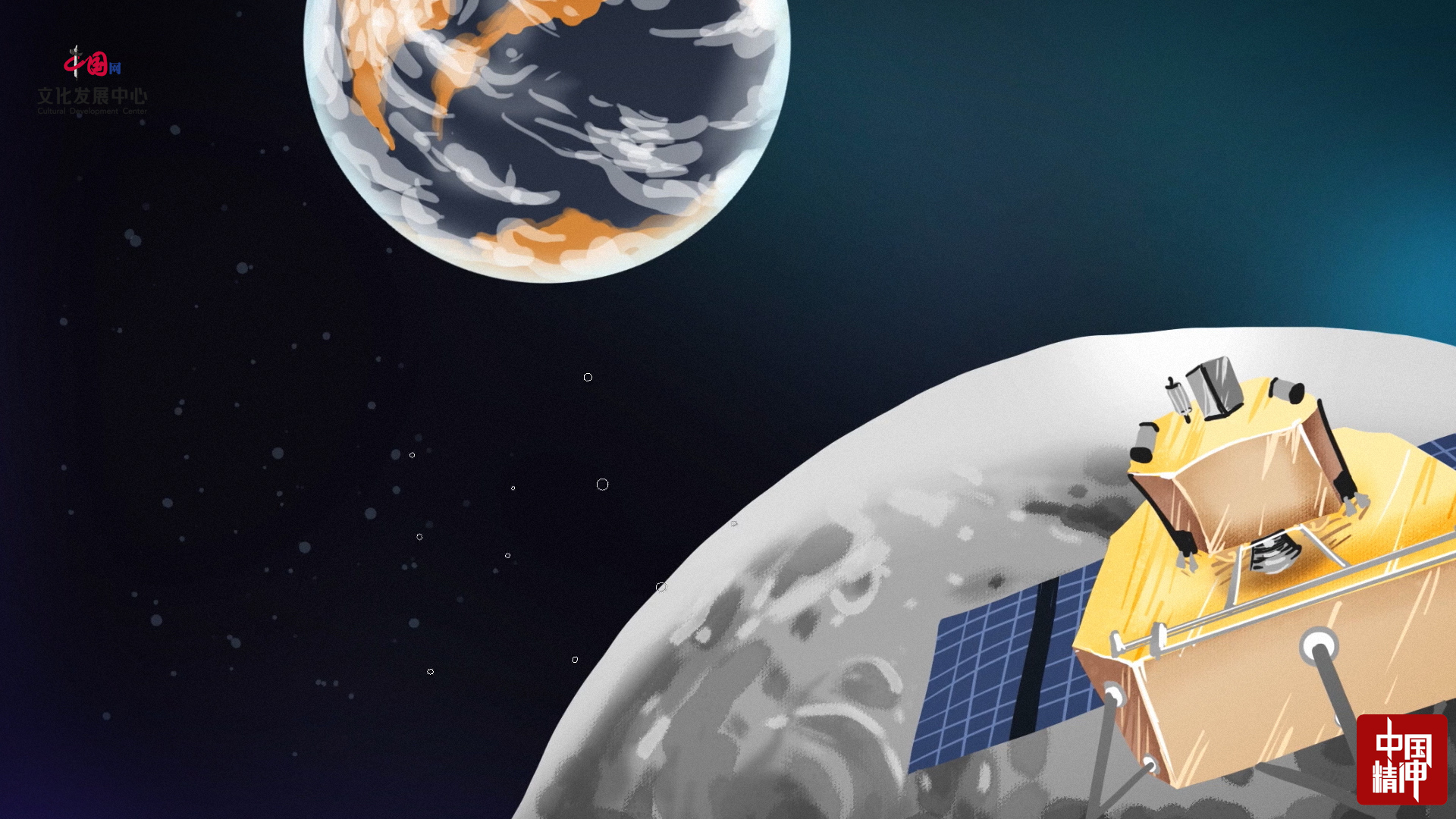 仰望星空、心懷夢想,腳踏實地、行穩致遠。以探月精神逐夢星空,以奮鬥姿態破浪前行,中國人的足跡必將抵達更加浩瀚的星辰大海,中國人必將在奮力奔跑和接續奮鬥中成就夢想。
Looking up at the starry sky, we hold fast to our dreams; standing on solid ground, we make efforts for stable and long-term development. Exploring the space with the lunar exploration spirit and forging ahead through hard work, the footprints of the Chinese people will surely reach the vaster sea of stars, and the Chinese people will certainly realize dreams through hard running and continuing efforts.