2017年8月28日,習近平總書記對河北塞罕壩林場建設者感人事跡作出重要指示強調:全黨全社會要堅持綠色發展理念,弘揚塞罕壩精神,持之以恒推進生態文明建設,一代接著一代幹,馳而不息,久久為功,努力形成人與自然和諧發展新格局,把我們偉大的祖國建設得更加美麗,為子孫後代留下天更藍、山更綠、水更清的優美環境。
On August 28, 2017, General Secretary Xi Jinping remarked on the achievement of Saihanba Afforestation Community in Hebei by stressing that: the whole Party and society must adhere to green developmentand promoting the spirit of Saihanba, and persevere in promoting ecological progress. Xi called on the Chinese people to continue for generations in creating a new pattern of harmonious development of the humanity and nature, make our motherland more beautiful and leave the future generations with a beautiful environment in which the sky is bluer, the mountains are greener, and the water is clearer.
塞罕壩位於河北省北部,曾經是茫茫荒原。半個多世紀以來,三代塞罕壩林場人以堅韌不拔的鬥志和永不言敗的擔當,堅持植樹造林,建設了112萬畝人工林海。如今,塞罕壩每年為京津地區輸送凈水1.37億立方米、釋放氧氣55萬噸,成為守衛京津的重要生態屏障。
Saihanba in northern Hebei Province used to be a wasteland. For more than half a century, three generations of local people have planted, with perseverance and dedication, a total of 1.12 million mu (about 74,666 ha.) of forests. Today, Saihanba delivers 137 million cubic meters of clean water and 550,000 tons of oxygen to Beijing and Tianjin each year, making it an important ecological barrier for Beijing and Tianjin.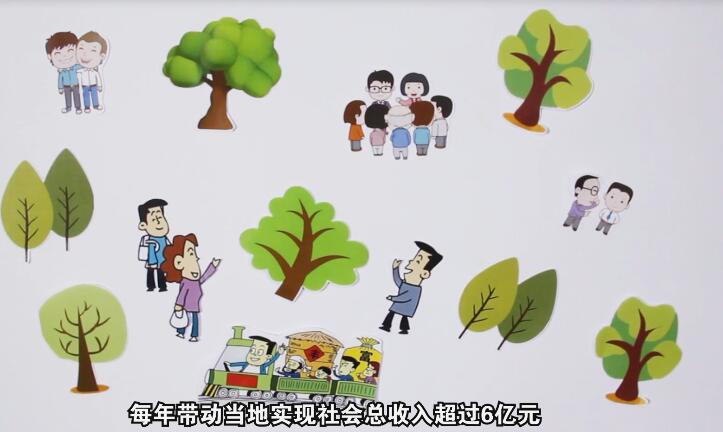 而塞罕壩林場的經濟效益同樣不容小覷,目前林場內林木蓄積量已達到1012萬立方米,野生植物多達600多種;森林資源總價值達202億元,每年帶動當地實現社會總收入超過6億元。塞罕壩的這片綠水青山已經成為真正的金山銀山。
That said, the economic benefits of Saihanba Afforestation Community cannot be underestimated. The forest stock has reached 10.12 million cubic meters, and there are more than 600 kinds of wild plants. The total value of forest resources is RMB 20.2 billion and contributes more than RMB 600 million to the local total social income. The ecological progress of Saihanba has resulted in great economic benefits.
從1962年至今,塞罕壩林場的建設者們聽從黨的召喚,在"黃沙遮天日,飛鳥無棲樹"的荒漠沙地上艱苦奮鬥、甘於奉獻,創造了荒原變林海的人間奇跡,鑄就了牢記使命、艱苦創業、綠色發展的塞罕壩精神。
Since 1962, the builders of the Saihanba Afforestation Community respond to the call of the Party by working hard to make a miracle happen—turn this treeless, sandy wasteland into a vast forest. The spirit of Saihanba entails a strong sense of mission, arduous pioneering work, and green development.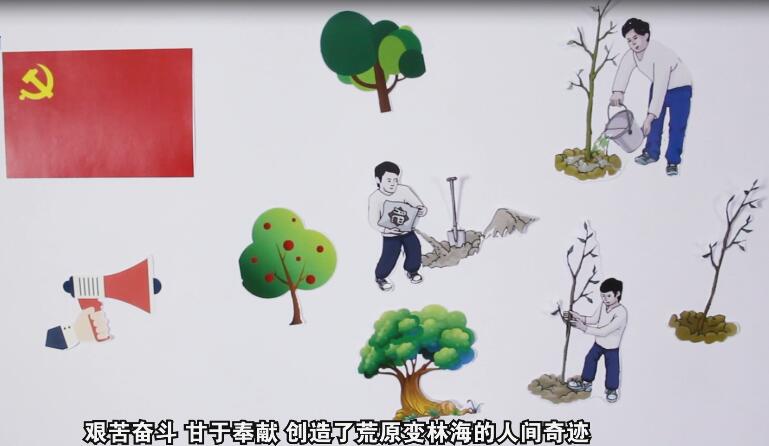 塞罕壩半個多世紀的輝煌成就,深刻詮釋了"綠水青山就是金山銀山"的理念,更是印證了習近平總書記關於"保護生態環境就是保護生産力、改善生態環境就是發展生産力"的精闢論斷。
The achievements of Saihanba for more than half a century are a reflection of the concept that "lucid waters and lush mountains are invaluable assets." It proves General Secretary Xi Jinping's incisive idea that "protecting the ecological environment means protecting productivity and improving the ecological environment is developing productivity."
習近平總書記指出:"環境就是民生,青山就是美麗,藍天也是幸福。"堅持綠色發展理念,以塞罕壩精神為標桿,全面推進生態文明建設,青山常在、清水長流、空氣常新就不是遙不可及的夢想,人民富裕、國家富強、中國美麗的目標一定能夠實現。
General Secretary Xi Jinping pointed out that: "Environment is livelihood; green mountains are beauty; and blue skies are happiness." Green mountains, lucid rivers, and clean air are not impossible dreams. Neither are people's prosperity, the country's prosperity and strength, and the beauty of China. We can achieve all these if we adhere to the green development and the spirit of Saihanba in our efforts to press forward with ecological progress.