中國的"和合思想"源遠流長、內涵豐富。
The thought of "he he"(the thought of harmony and convergence) enjoys a long history and rich connotation.
在甲骨文、金文中已經出現"和""合"二字。
These two Chinese characters have already been presented in inscriptions on bones or tortoise shells in Shang Dynasty and ancient bronze objects in Zhou Dynasty.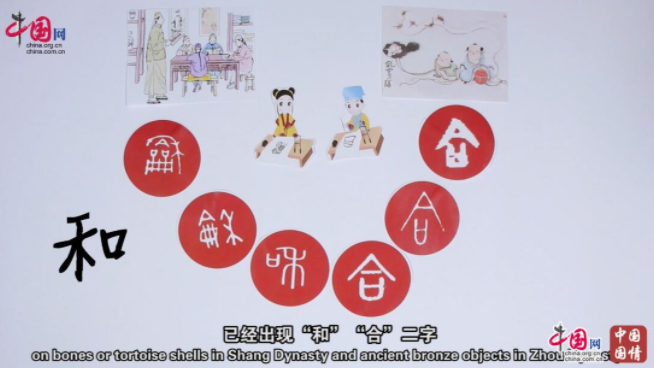 "和"的本義是聲音、音樂的和諧,後來引申出和睦、和善、中和等意思;"合"的本義是上下唇合攏,後來引申出匯合、結合、聯合、融合、合作等意思。
The first character "he "means the harmony of sound and music originally, which was extended to the meaning of concord, kindness and neutralization. The second character "he" implies the folding of upper and lower lips with an extended meaning of convergence, combination, integration and cooperation and the like.
中華傳統文化重和不重爭、重合不重分,認為和合是事物發展的重要動力。概括來説,和合思想具有三個方面的內涵:
Traditional Chinese culture attaches importance to harmony instead of dissension and values convergence rather than decentralization. Generally speaking, the thought of "he he" possess meaning of three aspects,namely:
一,相反相成。我國古人認為,世界上存在陰陽、進退、取捨、分合等眾多範疇,它們的性質和作用相反但相互依賴、相互融合,體現事物發展的規律。
First, be both opposite and complementary to each other. Ancient Chinese believe that there are many categories, like yin and yang, forward and withdraw, acceptance and rejection, division and integration. Even though opposite in nature and function, they are interdependent and integrating, reflecting developmental law of things.
二,和而不同。和合併不是混同,而是在承認差別性、相異性的基礎上講和諧、和睦。
Second, harmony in diversity. Harmony and convergence do not indicate exactly the same, but emphasize harmony on the basis of admitting difference and dissimilarity.
三,和實生物。和合不是靜止的,而是一個從區分、矛盾到平衡、融合的動態演變過程,在這一過程中萬物生生不息。
Third, everything will be derived from the state of harmony. Harmony and convergence are not still, but a dynamic evolving process from extinction and contradiction to balance and combination, during which all things are living and growing in nature.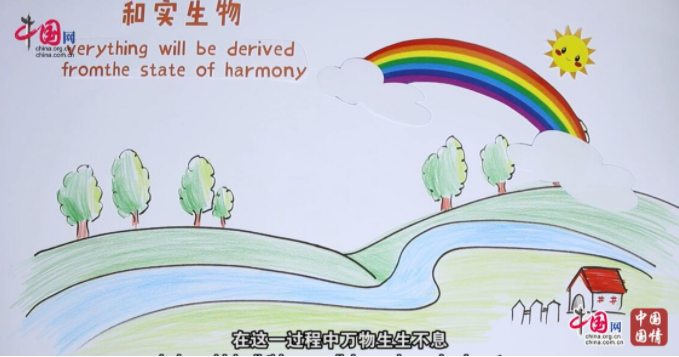 和合理念以中華先民的原初智慧為起點,在中華民族不斷融合不同文明和多元宗教的歷史進程中展開,追求以和諧為導向的多樣性共存互補,它不但是中華文明長久以來處理不同文化、宗教、地域、國家、社會和人際關係的重要歷史資源,也是中華民族千年不絕的連續性文化實踐。
Based on the wisdom of Chinese ancestors, the thought of "he he" develops in the history witnessed different cultures and diverse religions blending in Chinese people, pursuing co-existence and complementation of diversity under orientation of harmony. It is important historical resource for China to deal with different cultures, religions, regions, countries,societies and interpersonal relationships, as well as cultural practice of Chinese lasting thousands of years.
和合思想是中華心、民族魂的體現,也是當代核心價值觀的重要源泉。和諧是社會政治治理的目標,合作是達到這一目標的根本精神。因此,和合精神與社會主義核心價值觀的"和諧"完全一致。
The thought of "he he"is the demonstration of Chinese spirit and national soul, and it is a significant source of contemporary core values. Harmony is the objective of social governance, which could be reached by cooperation. Therefore, the thought of "he he" is fully in accord with "harmony"in socialist core values.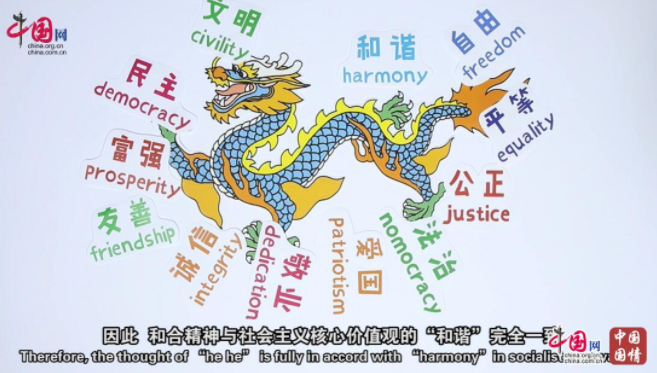 和合思想為保證中華民族幾千年來生生不息、繁榮昌盛作出了重要貢獻,也為我們今天處理人與人、人與社會以及人與自然之間的關係提供了重要啟示。
The thought of "he he" contributes a lot to the thousands of years' living and growing as well as prosperity of Chinese people, and provides important enlightenment for us to deal with relationships between human and human, human and society as well as human and nature nowadays.
面對人類探索合理世界秩序的時代要求,堅持"建設人類命運共同體"的文明價值理想。堅持做世界和平的建設者、國際秩序的維護者,推動構建以合作共贏為核心的新型國際關係,這不僅是中國道路的價值理想,也是和合理念的新內涵和新使命。
Under the background of human being exploring rational world order, it is the value of Chinese way as well as the new connotation and new mission of "he he" thought to insist the ideal of "building a community of shared future", to be the builder of world peace and the maintainer of world order, to build a new pattern of international relations based on cooperation and win-win situation.